Welcome to the Atlantic County Library System - the information center in Atlantic County. Our mission is to strengthen the quality of life in our diverse communities by providing learning opportunities, fostering a love of reading, connecting people to technology, and providing resources for entertainment. Learn more about the Atlantic County Library System's vision for the future in our 2023-2026 Strategic Plan.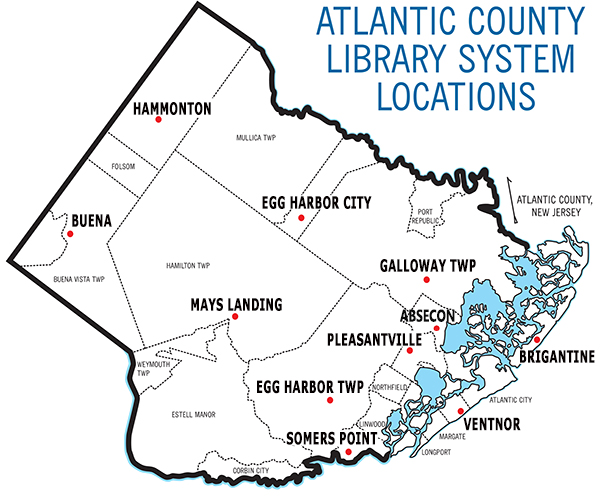 Our library system includes ten branches located throughout Atlantic County. In addition, ACLS operates a reading center in Buena Township, maintains a collection at Atlantic Cape Community College, offers a Books By Mail service, and participates in the Interlibrary Loan program. In 2022, the population of Atlantic County was approximately 274,966.
All branches are now operating at pre-pandemic hours under the guidance of  State and County directives. Following CDC guidelines in response to the COVID-19 pandemic, ACLS also expanded in person services to our community and installed self-checkout kiosks at our branches. Branches continued to offer curbside pickup and patrons were encouraged to place holds through ACLS' online catalog or our mobile app.
Recognizing the necessity of online content that is available 24/7, ACLS continued to enhance our digital media and databases. This include a subscription to Hoopla which provides even more audio and visual titles for patrons as well as procuring online training services like Mometrix and Northstar. An online application procedure makes it possible to register new accounts thus facilitating accessibility to our digital services. Additionally, ACLS has procured 35 Mobile WIFI Hotspots for circulation to help bridge the digital divide.
2022 Atlantic County Library System Statistics

 587,113 people walked through our doors
There were:

542,373 items circulated
38,849 registered card holders
348,693 printed volumes (books & serials) owned
19,101 audio volumes (spoken word & music) owned
49,949 video volumes owned
21 subscribed databases
30,864 eBooks, 9,666 eAudiobooks & 3,896 eMagazines in collection
152,798 downloads or views in 9 digital media services
1,395 people, on average, used our mobile app monthly
1,188,736 page views of our website
165 public computers available with internet
51,280 public computer uses
86,540 WiFi sessions
998 children programs
70 young adult programs
491 adult programs
116,077 YouTube views
17,209 reference requests
 

Policies
Jobs Opportunities
---
About Us Archive