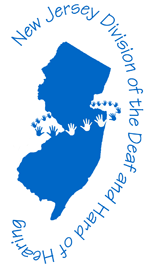 The New Jersey Division of the Deaf and Hard of Hearing has designated the Atlantic County Library System as a Regional Resource Center (RRC) for the Deaf and hard of hearing. This designation makes resources, like the TTY Lending service, possible for Atlantic County Library System patrons.
TTY Lending Service
A TTY machine is available for loan to Atlantic County Library cardholders. Borrowers are financially responsible for any damage to the TTY or other assistive devices, and must sign a contract stating such. Signatures are MANDATORY to borrow the TTY or other Assistive Loan Program Devices.
PLEASE NOTE: REPLACEMENT COST OF THE TTY UNIT IS $800.
Download/View the Assistive Devices Loan Agreement
---
CONTACT INFORMATION:
Division of the Deaf and Hard of Hearing
New Jersey Department of Human Services
PO Box 074
Trenton, NJ 08625-0074
800-792-8339 toll free in New Jersey
609-588-2648 
609-588-2528 FAX
E-mail DDHH