Storytime Anytime
Follow along as ACLS Galloway Branch's own Miss Filomena and Miss Shagufta share a song and read the "timely" titled book "Nesting." written by Henry Cole. Published by Harper Collins Publishers. (New May 28, 2020).
Go to ACLS' YouTube channel for more storytimes, crafts and STEAM videos. Subscribe so you don't miss the next one.
---
1000 Books Before Kindergarten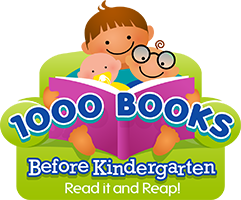 The Atlantic County Library System is excited to promote the 1000 Books Before Kindergarten Challenge. The goal of this program is to promote literacy and instill a life-long love of reading in your child. The concept is simple: read 1,000 books (any books) to your infant, toddler, or preschooler before she/he starts kindergarten. 
How it works:
Start: Register your child, ages 0-5, at any Atlantic County Library System branch to receive instructions and a reading log.
Read: Any book -- new books or repeat books. If you read just 1 book a night to your child, they will have heard approximately 365 books in one year, 730 books in two years, and 1,095 books in three years.
Track: Each time you read a book with your child, record it in the reading log or app. All books count, even ACLS storytime titles.
Celebrate: Mark each milestone. Upon completion, your child will be presented with a certificate.
For more information about the 1000 Books Before Kindergarten Challenge and reading suggestions, talk to any Atlantic County Library System staff member.
Printable Instructions