1000 Books Before Kindergarten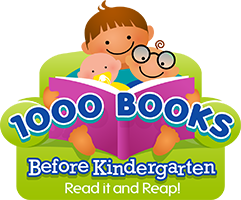 The Atlantic County Library System is excited to promote the 1000 Books Before Kindergarten Challenge. The goal of this program is to promote literacy and instill a life-long love of reading in your child. The concept is simple: read 1,000 books (any books) to your infant, toddler, or preschooler before she/he starts kindergarten. 
HOW IT WORKS
New Readers:
Start: Register your child, ages 0-5, at any Atlantic County Library System branch of your choice through the READSquared website or mobile app for iOS and Android devices (not available for Kindle devices).
Read: Any book -- new books or repeat books. If you read just 1 book a night to your child, they will benefit from approximately 365 books in one year, 730 books in two years, and 1,095 books in three years.
Track: Each time you read a book with your child, record it on the READsquared website or mobile app. All books count, even ACLS storytime and TumbleBook Library titles.
Celebrate: Mark each milestone by collecting digital badges. Upon completion, display your child's accomplishment with a printable certificate.
Existing Readers:
Keep reading and continue to use the 1000 Books Before Kindergarten App to track titles. You may also switch over and register your young readers with the READsquared website or mobile app to track and print milestone certificates.
For more information about the 1000 Books Before Kindergarten Challenge and reading suggestions, talk to any Atlantic County Library System staff member.
---
Storytime Anytime
Miss Christine, of our Somers Point Branch, introduces you to Sadie, a girl whose great imagination builds stories and takes her on amazing adventures. "This is Sadie" is written by Sarah O'Leary and illustrated by Julie Morstad. Read with permission by Tundra Books. (Updated September 24, 2020).
Go to ACLS' YouTube channel for more storytimes, crafts and STEAM videos. Subscribe so you don't miss the next one.