Please call your local branch to reserve this title for your club.
Bag Contents: 8 copies +  2 large print
Summary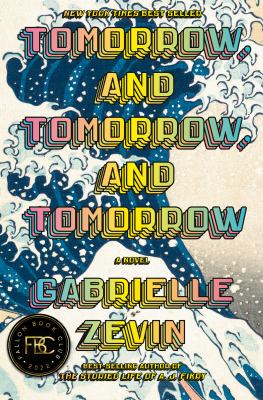 Sam and Sadie—two college friends, often in love, but never lovers—become creative partners in a dazzling and intricately imagined world of video game design, where success brings them fame, joy, tragedy, duplicity, and, ultimately, a kind of immortality. It is a love story, but not one you have read before.
On a bitter-cold day, in the December of his junior year at Harvard, Sam Masur exits a subway car and sees, amid the hordes of people waiting on the platform, Sadie Green. He calls her name. For a moment, she pretends she hasn't heard him, but then, she turns, and a game begins: a legendary collaboration that will launch them to stardom. These friends, intimates since childhood, borrow money, beg favors, and, before even graduating college, they have created their first blockbuster, Ichigo. Overnight, the world is theirs. Not even twenty-five years old, Sam and Sadie are brilliant, successful, and rich, but these qualities won't protect them from their own creative ambitions or the betrayals of their hearts.
Spanning thirty years, from Cambridge, Massachusetts, to Venice Beach, California, and lands in between and far beyond, Gabrielle Zevin's Tomorrow, and Tomorrow, and Tomorrow examines the multifarious nature of identity, disability, failure, the redemptive possibilities in play, and above all, our need to connect: to be loved and to love.
Publisher's Weekly Review
Zevin (Young Jane Young) returns with an exhilarating epic of friendship, grief, and computer game development. In 1986, Sadie Green, 11, visits a children's hospital where her sister is recovering from cancer. There, she befriends another patient, a 12-year-old Korean Jewish boy named Sam Masur, who has a badly injured foot, and the two bond over their love for video games. Their friendship ruptures, however, after Sam discovers Sadie's been tallying the visits to fulfill her bat mitzvah service.
Years later, they reconnect while attending college in Boston. Sam is wowed by a game Sadie developed, called Solution. In it, a player who doesn't ask questions will unknowingly build a widget for the Third Reich, thus forcing the player to reflect on the impact of their moral choices. He proposes they design a game together, and relying on help from his charming, wealthy Japanese Korean roommate, Marx, and Sadie's instructor cum abusive lover, Dov, they score a massive hit with Ichigo, inspired by The Tempest. In 2004, their virtual world-builder Mapletown allows for same-sex marriages, drawing ire from conservatives, and a violent turn upends everything for Sam and Sadie.
Zevin layers the narrative with her characters' wrenching emotional wounds as their relationships wax and wane, including Sadie's resentment about sexism in gaming, Sam's loss of his mother, and his foot amputation. Even more impressive are the visionary and transgressive games (another, a shooter, is based on the poems of Emily Dickinson). This is a one-of-a-kind achievement. Agent: Doug Stewart, Sterling Lord Literistic. (July) (c) Copyright PWxyz, LLC. All rights reserved
Library Journal Review
Zevin's (The Storied Life of A. J. Fikry) latest explores the many facets of growing up, loving oneself and others, and finding success. Sam and Sadie first meet in a children's hospital ward, where they bond over their shared love of video games. Decades later, they reconnect as college students, eventually creating a popular video game that launches them into stardom. As they reach adulthood and contend with newfound fame, the two navigate the complexities of identity, disability, failure, and friendship. Jennifer Kim and Julian Cihi's narration brings Sam and Sadie to life as fully fleshed characters—emotional, fallible, and entirely human. Their narration allows for the nuances of their relationship to surface, creating a multi-layered love story that encompasses more than romance. Gamers will appreciate Zevin's insights into the gaming world, although listeners without gaming knowledge will also find much to enjoy. VERDICT Share widely with gamers, non-gamers, and anyone who appreciates well-drawn relationship stories. Perfect for fans of Ernest Cline's Ready Player One and Kayla Rae Whitaker's The Animators.—Elyssa Everling (c) Copyright Library Journals LLC, a wholly owned subsidiary of Media Source, Inc. No redistribution permitted.
Kirkus Reviews
The adventures of a trio of genius kids united by their love of gaming and each other. When Sam Masur recognizes Sadie Green in a crowded Boston subway station, midway through their college careers at Harvard and MIT, he shouts, "SADIE MIRANDA GREEN. YOU HAVE DIED OF DYSENTERY!" This is a reference to the hundreds of hours—609 to be exact—the two spent playing "Oregon Trail" and other games when they met in the children's ward of a hospital where Sam was slowly and incompletely recovering from a traumatic injury and where Sadie was secretly racking up community service hours by spending time with him, a fact which caused the rift that has separated them until now. They determine that they both still game, and before long they're spending the summer writing a soon-to-be-famous game together in the apartment that belongs to Sam's roommate, the gorgeous, wealthy acting student Marx Watanabe. Marx becomes the third corner of their triangle, and decades of action ensue, much of it set in Los Angeles, some in the virtual realm, all of it riveting.
A lifelong gamer herself, Zevin has written the book she was born to write, a love letter to every aspect of gaming. For example, here's the passage introducing the professor Sadie is sleeping with and his graphic engine, both of which play a continuing role in the story: "The seminar was led by twenty-eight-year-old Dov Mizrah....It was said of Dov that he was like the two Johns (Carmack, Romero), the American boy geniuses who'd programmed and designed Commander Keen and Doom, rolled into one. Dov was famous for his mane of dark, curly hair, wearing tight leather pants to gaming conventions, and yes, a game called Dead Sea, an underwater zombie adventure, originally for PC, for which he had invented a groundbreaking graphics engine, Ulysses, to render photorealistic light and shadow in water." Readers who recognize the references will enjoy them, and those who don't can look them up and/or simply absorb them. Zevin's delight in her characters, their qualities, and their projects sprinkles a layer of fairy dust over the whole enterprise. Sure to enchant even those who have never played a video game in their lives, with instant cult status for those who have. Copyright © Kirkus Reviews, used with permission.