Please call your local branch to reserve this title for your club.
Bag Contents: 10 copies
Available on Hoopla: audiobook and summaries
Summary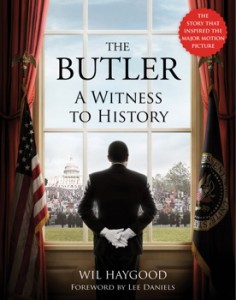 When acclaimed Washington Post writer Wil Haygood had an early hunch that Obama would win the 2008 election, he thought he'd highlight the singular moment by exploring the life of someone who had come of age when segregation was so widespread, so embedded in the culture as to make the very thought of a black president inconceivable. He struck gold when he tracked down Eugene Allen, a butler who had served no fewer than eight presidents, from Harry Truman to Ronald Reagan. During his thirty-four years of service, Allen became what the Independent described as a "discreet stagehand who for three decades helped keep the show running in the most important political theatre of all."
While serving tea and supervising buffets, Allen was also a witness to history as decisions about America's most momentous events were being made. Here he is at the White House while Kennedy contemplates the Cuban missile crisis; here he is again when Kennedy's widow returns from that fateful day in Dallas. Here he is when Johnson and his cabinet debate Vietnam, and here he is again when Ronald Reagan is finally forced to get tough on apartheid. Perhaps hitting closest to home was the civil rights legislation that was developed, often with passions flaring, right in front of his eyes even as his own community of neighbors, friends, and family were contending with Jim Crow America. With a foreword by the Academy Award- nominated director Lee Daniels, The Butler also includes an essay, in the vein of James Baldwin's jewel The Devil Finds Work , that explores the history of black images on celluloid and in Hollywood, and fifty-seven pictures of Eugene Allen, his family, the presidents he served, and the remarkable cast of the movie.
Kirkus
A distinguished Washington Post journalist's account of the black White House butler who bore witnessto eight presidential administrations. When Haygood (Sweet Thunder: The Life and Times of Sugar Ray Robinson, 2009, etc.) was covering the campaign of Barack Obama in 2008, he knew beyond any doubt that the former Illinois senator "was indeed going to get to 1600 Pennsylvania Avenue, tothe White House." It was then that the author decided to see whether he could locate a black person "from the era of segregation" who had been a presidential servant. His investigations led him to an unassuming man named Eugene Allen. Born on a Virginia plantation, Allen grew up working as a houseboy for a white family. Possessed of refinement, discretion and a desire to make good in the world, he took a job as a waiter in a country club and then as pantry worker in the Truman White House, eventually rising tothe rank of butler.
From his unique vantage point "in the hard shadow of power," Allen witnessed history unfurl before him. He watched as President Dwight D. Eisenhower called on federal troops to protect black high school students in Arkansas, and he witnessed a nation mourn the death of JFK and become embittered over Johnson's escalation of the Vietnam War and Nixon's role in the Watergate scandal. Allen's story, which began as a front-page article in the Post, would become the subject of a much-anticipated film, TheButler, which Haygood also discusses in context of the fraught and elided history of African-Americans in Hollywood. The book is brief, but the two sections and many images of Allen's quietly extraordinary life speak volumes about a nation struggling, and succeeding by degrees, to come to terms with an ignominious history of racial inequality. Poignant and powerful.(Kirkus Reviews, July 1, 2013)