Please call your local branch to reserve this title for your club.
Bag Contents: 10 copies + 1 large print + 1 audiobook
Summary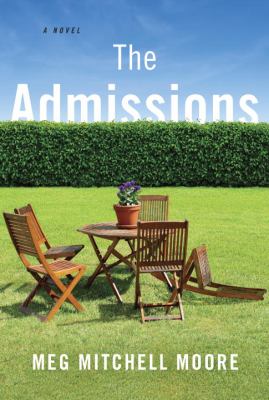 The Admissions brilliantly captures the frazzled pressure cooker of modern life as a seemingly perfect family comes undone by a few desperate measures, long-buried secret --and college applications!
The Hawthorne family has it all. Great jobs, a beautiful house in one of the most affluent areas of Northern California, and three charming kids whose sunny futures are all but assured. And then comes their eldest daughter's senior year of high school . . .
Firstborn Angela Hawthorne is a straight-A student and star athlete, with extracurricular activities coming out of her ears and a college application that's not going to write itself. She's set her sights on Harvard, her father's alma mater, and like a dog with a chew toy, Angela won't let up until she's basking in crimson-colored glory. Except her class rank as valedictorian is under attack, she's suddenly losing her edge at cross-country, and she can't help but daydream about a cute baseball player. Of course Angela knows the time put into her schoolgirl crush would be better spent coming up with a subject for her English term paper--which, along with her college essay, has a rapidly approaching deadline.
Angela's mother, Nora, is similarly stretched to the limit, juggling parent-teacher meetings, carpool, and a real estate career where she caters to the mega-rich and super-picky buyers and sellers of the Bay Area. The youngest daughter, second-grader Maya, still can't read; the middle child, Cecily, is no longer the happy-go-lucky kid she once was; and their dad, Gabe, seems oblivious to the mounting pressures at home because a devastating secret of his own might be exposed. A few ill-advised moves put the Hawthorne family on a collision course that's equal parts achingly real and delightfully screwball--and they learn that whatever it cost to get their lucky lives it may cost far more to keep them.
Sharp, topical, and wildly entertaining, The Admissions shows that if you pull at a loose thread, even the sturdiest lives start to unravel at the seams of high achievement.
Booklist Review
The Hawthorne family of Marin County, California, seems to epitomize success. Gabe, now a partner in the consulting firm he joined in its early days, is the Don Draper of his office, and his wife, Nora, is an intuitive and successful realtor. But each has a secret kept from the other for years. And their daughters' lives are less than idyllic. Despite her stellar academics and extracurricular activities, Angela, 17, feels under extreme pressure to retain her valedictorian standing and get early acceptance to Harvard, her father's alma mater. Cecily, 10, loves Irish dance but is concerned about a pending competition. Maya, 7, hasn't learned to read yet. Trouble is apparent in the opening pages but not fully revealed until much later, after further mistakes are made as various family members try to keep their lives intact and their hopes alive. With wry humor, Moore (So Far Away, 2012) describes an underside of contemporary life in a masterfully structured, compelling narrative with appealingly fallible characters and a final ray of hope.--Leber, Michele Copyright 2015 Booklist
Publisher's Weekly Review
Moore's stellar follow-up to So Far Away concerns the beleaguered Hawthorne family, whose eldest daughter, Angela, is furiously working to get into Harvard, her father, Gabe's, alma mater. Like her anxious mother Nora, a type-A real estate agent, Angela's determination never flags. She's been gunning for a spot at Harvard ever since Gabe put her in a sweatshirt with its logo when she was a toddler. Her insurmountable workload leads her to begin abusing stimulants and start contemplating devious ways to remain valedictorian. Moore's title is a play on words, as Nora and Gabe also harbor secrets. Workaholic Nora is convinced that an old accident brought on by her job-focused carelessness is why youngest child, seven-year-old Maya, now can't read. Meanwhile, an ambitious intern threatens to air Gabe's dirty laundry unless he pulls some strings for her. Pressure to sell an overpriced home and a possible lawsuit consume Nora as Angela begins to feel the deleterious effects of her stressful life. Moore successfully conveys how the quest for excellence spares no one in this industrious clan: even cheerful middle child, Cecily, loses her sense of self after a mistake costs her dance team. This is a page-turner as well as an insightful character study. (Aug.) © Copyright PWxyz, LLC. All rights reserved.