*Please call 609-625-2776, ext. 6338, to reserve this title for your club.
Bag Contents: 10 books
Available on Hoopla: eBook
Summary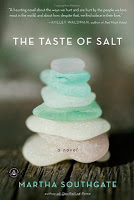 Award-winning novelist Martha Southgate (who, in the words of Julia Glass, can write fat and hot, then lush and tender, then just plain truthful and burning with heart) now tells the story of a family pushed to its limits by addiction over the course of two generations. Josie Henderson loves the water and is fulfilled by her position as the only senior-level black scientist at the Woods Hole Oceanographic Institute. In building this impressive life for herself, she has tried to shed the one thing she cannot: her family back in landlocked Cleveland. Her adored brother, Tick, was her childhood ally as they watched their drinking father push away all the love that his wife and children were trying to give him. Now Tick himself has been coming apart and demands to be heard. Weaving four voices into a beautiful tapestry, Southgate charts the lives of the Hendersons from the parents' first charmed meeting to Josie's realization that the ways of the human heart are more complex than anything seen under a microscope.
Booklist Review
As a senior marine biologist at the Woods Hole Oceanographic Institute happily married to a like-minded scientist, Josie Henderson is mostly content. Being able to keep her family at arm's length, however, is a feat she's unable to accomplish. Given her mother's failing health and her little brother's problems with addiction, Josie knows that the comfort of her independent life is in constant jeopardy. After the brother shows up on her doorstep, Josie is forced to confront the family legacy of addiction and subsequent heartbreak. Using three other family members to help narrate Josie's story, Southgate proves to be an adept and versatile writer. In Southgate's hands, the delicate issues of addiction, racial identity, and infidelity are treated gently and never milked for unnecessary melodrama. With a lyrical style and obvious respect for her craft, Southgate has composed a compassionate, complex, and concentrated novel, tenderly powerful, that explores family bonds that last long after the family is dispersed.--Turza, Stephanie Copyright 2010 Booklist
Publisher's Weekly Review
In her haunting fourth novel, Southgate (Third Girl from the Left) examines the complicated issues of race, family, love, and addiction. Josie Henderson is a widely respected scientist at Woods Hole Oceanographic Institute in Massachusetts and prides herself on being the only senior-level African-American marine biologist there. Henderson loves her job and has a husband, Daniel, who adores her, but she can't shake her past of growing up with an alcoholic father. The story spins out, told through Josie's eyes and those of her brother, Tick, father, mother and husband after Josie goes back to her hometown of Cleveland to pick Tick up from his second stint in rehab. Southgate's arresting, fluid prose and authentic dialogue come together in a resonating study of relationships, where selfish tendencies among the various characters are revealed, as are their feelings of regret. A fascinating story that shows how the mistakes people make affect all those around them. (Sept.) (c) Copyright PWxyz, LLC. All rights reserved.
Library Journal Review
Southgate follows her two critically acclaimed novels, The Fall of Rome and Third Girl from the Left, with a novel featuring African American oceanographer Josie Henderson, who resides in Massachusetts with her white husband. Her decision to live and work near the ocean, away from her hometown of Cleveland, was prompted, almost without her being aware, by the alcoholism of her father and younger brother, Tick; she had longed for an escape. When Tick shows up expectantly at her door, Josie is suddenly confronted with her past and her own romantic addictions. Writing largely from the perspective of her protagonist, Southgate does a wonderful job of telling Josie's story, touching on racism, sexism, alcoholism, and emotional infidelity in a story that is intriguing if not entirely unpredictable. In fact, the novel is strongest when it most recalls an actual memoir. VERDICT A good, attention-grabbing read reminiscent of James Baldwin's Go Tell It on the Mountain, this work will appeal to readers of African American literature.-Ashanti White, Univ. of North Carolina, Greensboro (c) Copyright 2011. Library Journals LLC, a wholly owned subsidiary of Media Source, Inc. No redistribution permitted.