Please call your local branch to reserve this title for your club.
Bag Contents: 10 copies + 1 large print + 1 audiobook
Summary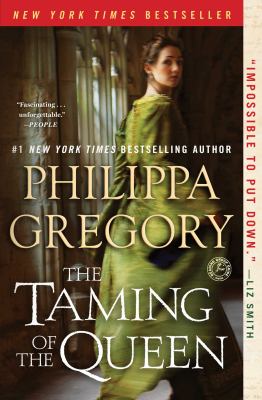 By the #1 New York Times bestselling author behind the Starz original series The White Queen , a riveting new Tudor tale featuring King Henry VIII's sixth wife Kateryn Parr, the first English queen to publish under her own name.
Why would a woman marry a serial killer? Because she cannot refuse...
Kateryn Parr, a thirty-year-old widow in a secret affair with a new lover, has no choice when a man old enough to be her father who has buried four wives--King Henry VIII--commands her to marry him.
Kateryn has no doubt about the danger she faces: the previous queen lasted sixteen months, the one before barely half a year. But Henry adores his new bride and Kateryn's trust in him grows as she unites the royal family, creates a radical study circle at the heart of the court, and rules the kingdom as Regent.
But is this enough to keep her safe? A leader of religious reform and the first woman to publish in English, Kateryn stands out as an independent woman with a mind of her own. But she cannot save the Protestants, under threat for their faith, and Henry's dangerous gaze turns on her. The traditional churchmen and rivals for power accuse her of heresy--the punishment is death by fire and the king's name is on the warrant...
From an author who has described all of Henry's queens comes a deeply intimate portrayal of the last: a woman who longed for passion, power, and education at the court of a medieval killer.
Booklist Review
Gregory's latest Tudor historical novel charts the surprisingly viable relationship between Henry VIII and Catherine (Kateryn) Parr. Catherine has the distinction of being the last of Henry's six wives and the only one to survive him, as his legal spouse, after his death. Compelled by fear and duty to marry Henry, despite being passionately in love with Thomas Seymour, she nevertheless forges a strong bond with both the increasingly ailing king and his three children. Of course, court conspiracies cannot be entirely avoided as Catherine's enemies (who else but staunch churchmen?) plot against her and attempt to undermine her influence on king, country, and church. In addition to her role as queen of England and Ireland, Catherine is a committed religious reformer, whose opinions and writings inspire charges of heresy that carry with them punishment by death. Although history tells us that Catherine eventually triumphed, Gregory does her usual excellent job of ratcheting up the intrigue and suspense as another intelligent and strong-willed heroine fights for her life and her legacy. HIGH-DEMAND BACKSTORY:Both Gregory and the Tudors sell, so expect high demand for another rousing chapter in the Tudor dynasty featuring a refreshingly resilient heroine, who emerges with her head intact.--Flanagan, Margaret Copyright 2015 Booklist
Publisher's Weekly Review
In this absorbing Tudor historical, Gregory (The White Queen) traces the relationship between Henry VIII and Kateryn Parr, his sixth wife, from the time of the king's marriage proposal in 1543 until his death four years later. Kateryn is a beauty: learned, kind, twice-widowed yet young enough to bear the sons crucial to securing the succession; she is also passionately in love with another. Her dutiful tolerance of Henry's bad breath, corpulence, ulcerous leg, and fumblings in bed make pitiable the personal cost of his proposal. Gregory balances Kateryn's sensual responses to royal life-the smell of her predecessor's furs, the king's sweat-drenched clothing-with the religious controversy that dominated the 1540s. Initially naive to court factions, Parr is guided by her sister and develops enormous satisfaction from scholarly examination of the Bible. Expressing her own Reformist views when pro-Catholic forces are ascendant, Kateryn risks the king's extreme displeasure and is "tamed" to save her life; the process bleaches the marriage of its satisfactions. Tracing Kateryn's path to intellectual independence requires more religious discussion than some readers will prefer, but Gregory's portrait of the complex, aging king and his sensual, scholarly bride will satisfy Tudor enthusiasts. (Aug.) © Copyright PWxyz, LLC. All rights reserved.
Library Journal Review
In her latest historical outing, Gregory (The White Queen) studies the final Tudor wife. Henry VIII has chosen his sixth and last bride, Kateryn Parr, and she is justifiably terrified at this prospect. There is no denying the king, even as her heart longs for her lover Thomas Seymour. Kateryn's family is of the reformed faith and wants her to promote their religious agenda to the king. Reluctant at first, she comes to embrace the Protestant faith in earnest. Subjected to Henry's dramatic mood swings, Kateryn quickly learns that she must tread carefully to stay safe and promote her cause. Things go smoothly for a period, but the capricious king decides that the old religion is best after all and Kateryn is now in danger of being arrested for heresy. As she fights for her life, she must compromise her newfound religious principles. VERDICT Full of vivid details and fraught with the constant tension of a court run by a madman, this novel will appeal most to historical fiction readers and those who enjoyed Wolf Hall. The end of the story is well known, but Gregory beautifully builds the suspense.-Kristen Stewart, Pearland Lib., Brazoria Cty. Lib. Syst., TX © Copyright 2015. Library Journals LLC, a wholly owned subsidiary of Media Source, Inc. No redistribution permitted.