Please call your local branch to reserve this title for your club.
Bag Contents: 10 copies
Available on Hoopla: eBook, audiobook, and summaries
Summary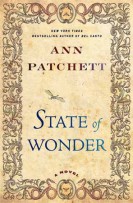 In a narrative replete with poison arrows, devouring snakes, scientific miracles, and spiritual transformations, State of Wonder presents a world of stunning surprise and danger, rich in emotional resonance and moral complexity. As Dr. Marina Singh embarks upon an uncertain odyssey into the insect-infested Amazon, she will be forced to surrender herself to the lush but forbidding world that awaits within the jungle. Charged with finding her former mentor Dr. Annick Swenson, a researcher who has disappeared while working on a valuable new drug, she will have to confront her own memories of tragedy and sacrifice as she journeys into the unforgiving heart of darkness. Stirring and luminous, State of Wonder is a world unto itself, where unlikely beauty stands beside unimaginable loss beneath the rain forests jeweled canopy.
Booklist Review
Marina Singh gave up a career as a doctor after botching an emergency delivery as an intern, opting instead for the more orderly world of research for a pharmaceutical company. When office colleague Anders Eckman, sent to the Amazon to check on the work of a field team, is reported dead, Marina is asked by her company's CEO to complete Anders' task and to locate his body. What Marina finds in the sweltering, insect-infested jungles of the Amazon shakes her to her core. For the team is headed by esteemed scientist Annick Swenson, the woman who oversaw Marina's residency and who is now intent on keeping the team's progress on a miracle drug completely under wraps. Marina's jungle odyssey includes exotic encounters with cannibals and snakes, a knotty ethical dilemma about the basic tenets of scientific research, and joyous interactions with the exuberant people of the Lakashi tribe, who live on the compound. In fluid and remarkably atmospheric prose, Patchett captures not only the sights and sounds of the chaotic jungle environment but also the struggle and sacrifice of dedicated scientists. HIGH-DEMAND BACKSTORY: The award-winning, New York Times best-selling author's latest novel is being supported with an author tour, a national advertising campaign, blogger outreach, and a reading-group guide.--Wilkinson, Joanne Copyright 2010 Booklist
Publisher's Weekly Review
Patchett (Bel Canto) is a master storyteller who has an entertaining habit of dropping ordinary people into extraordinary and exotic circumstances to see what they're made of. In this expansive page-turner, Marina Singh, a big pharma researcher, is sent by her married boss/lover to the deepest, darkest corner of the Amazon to investigate the death of her colleague, Anders Eckman, who had been dispatched to check on the progress of the incommunicado Dr. Annick Swenson, a rogue scientist on the cusp of developing a fertility drug that could rock the medical profession (and reap enormous profits). After arriving in Manaus, Marina travels into her own heart of darkness, finding Dr. Swenson's camp among the Lakashi, a gentle but enigmatic tribe whose women go on bearing children until the end of their lives. As Marina settles in, she goes native, losing everything she had held on to so dearly in her prescribed Midwestern life, shedding clothing, technology, old loves, and modern medicine in order to find herself. Patchett's fluid prose dissolves in the suspense of this out-there adventure, a juggernaut of a trip to the crossroads of science, ethics, and commerce that readers will hate to see end. (June) (c) Copyright PWxyz, LLC. All rights reserved.
Library Journal Review
In this superbly rendered novel, Patchett (Run) takes the reader into the primitive world of the Amazon in Brazil. Pharmacologist Marina Singh from Minnesota works for the pharmaceutical company Vogel. Her colleague Anders Eckman dies in the jungle while trying to locate Dr. Annick Swenson, who has been working on a fertility drug for Vogel by studying the Lakashi people, whose women bear children into old age. Marina's journey to the Amazon to find the uncommunicative and intimidating Dr. Swen-son and to discover the details of Anders's death is fraught with poisonous snakes and poisonous memories, malarial mosquitoes and sickening losses, but her time among the Lakashi tribe is transformative. VERDICT Not a sentimental view of a primitive people, Patchett's portrayal is as wonderful as it is frightening and foreign. Patchett exhibits an extraordinary ability to bring the horrors and the wonders of the Amazon jungle to life, and her singular characters are wonderfully drawn. Readers who enjoy exotic locales will especially be interested, but all will find this story powerful and captivating. [See Prepub Alert, 11/29/10.]-Joy Humphrey, Pepperdine Univ. Law Lib., Malibu, CA (c) Copyright 2011. Library Journals LLC, a wholly owned subsidiary of Media Source, Inc. No redistribution permitted.