Please call your local branch to reserve this title for your club.
Bag Contents: 10 copies
Available on Hoopla: audiobook
Summary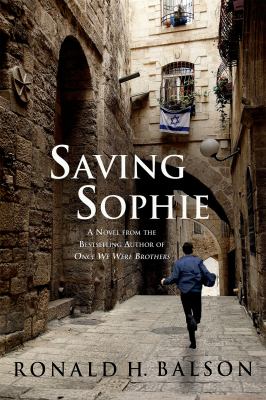 From Ronald H. Balson, author of Once We Were Brothers , Saving Sophie is the powerful story of the lengths a father will go through to protect his daughter and an action-packed thriller that will take you on an unforgettable journey of murder and deception, testing the bonds of family and love.
Jack Sommers was just an ordinary attorney from Chicago. That is, until his wife passed away, his young daughter was kidnapped, and he became the main suspect in an $88 million dollar embezzlement case. Now, Jack is on the run, hoping to avoid the feds long enough to rescue his daughter, Sophie, from her maternal grandfather, a suspected terrorist in Palestine.
With the help of the investigative team who first appeared in Once We Were Brothers , Liam and Catherine, and a new CIA operative, a secret mission is launched to not only rescue Sophie, but also to thwart a major terrorist attack in Hebron. But will being caught in the crossfires of the Palestine-Israeli conflict keep their team from accomplishing the task at hand, or can they overcome the odds and save countless lives, including their own?
Publisher's Weekly Review
In Balson's solid sequel to Once We Were Brothers, Chicago PI Liam Taggart and his fiancée, lawyer Catherine Lockhart, investigate an act of embezzlement complicated by links to a child kidnapping and terrorist activity in Hebron, Israel. Jewish accountant Jack Sommers, who's hiding in Hawaii after helping misdirect an $88 million business transaction, is desperate to retrieve his six-year-old daughter, Sophie, from his late wife's Palestinian father, Dr. Arif al-Zahani. FBI agent Jeff Miller and Kayla Cummings, who advises the assistant secretary of state for Near Eastern Affairs, join the investigation, because they believe the missing money could be funding an extremist group led by al-Zahani. Suspense fans will find few surprises in a novel that focuses on showing how the everyday people of both Israel and Palestine just want to live quiet, peaceful lives. Balson succeeds in illuminating the personal side of the Middle Eastern conflict through his deeply human, psychologically credible characters. Agent: Maura Teitelbaum, May Miller. (Sept.) © Copyright PWxyz, LLC. All rights reserved.