Please call your local branch to reserve this title for your club.
Bag Contents: 8 copies + 2 large prints + 1 CD audiobook
Available on Hoopla: eBook and audiobook
Summary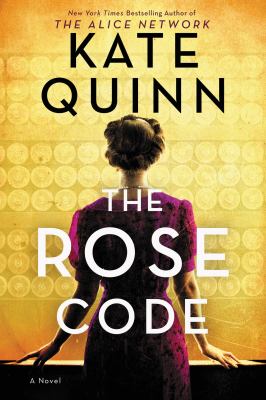 The reigning queen of historical fiction' -- Fiona Davis, New York Times bestselling author of The Lions of Fifth Avenue The New York Times and USA Today bestselling author of The Huntress and The Alice Network returns with another heart-stopping World War II story of three female code breakers at Bletchley Park and the spy they must root out after the war is over.1940.
As England prepares to fight the Nazis, three very different women answer the call to mysterious country estate Bletchley Park, where the best minds in Britain train to break German military codes. Vivacious debutante Osla is the girl who has everything'beauty, wealth, and the dashing Prince Philip of Greece sending her roses'but she burns to prove herself as more than a society girl, and puts her fluent German to use as a translator of decoded enemy secrets. Imperious self-made Mab, product of east-end London poverty, works the legendary codebreaking machines as she conceals old wounds and looks for a socially advantageous husband. Both Osla and Mab are quick to see the potential in local village spinster Beth, whose shyness conceals a brilliant facility with puzzles, and soon Beth spreads her wings as one of the Park's few female cryptanalysts. But war, loss, and the impossible pressure of secrecy will tear the three apart. 1947. As the royal wedding of Princess Elizabeth and Prince Philip whips post-war Britain into a fever, three friends-turned-enemies are reunited by a mysterious encrypted letter--the key to which lies buried in the long-ago betrayal that destroyed their friendship and left one of them confined to an asylum. A mysterious traitor has emerged from the shadows of their Bletchley Park past, and now Osla, Mab, and Beth must resurrect their old alliance and crack one last code together. But each petal they remove from the rose code brings danger--and their true enemy--closer....
Booklist Online
By turns heartbreaking, fascinating, and mysterious, Quinn's latest historical novel is likely to turn up on 2021 best lists. The action—and there is plenty of it—centers on Bletchley Park, the home of England's WWII code-breaking activities. Alan Turing makes some cameos, but the real stars here (characters reminiscent of the "girls" in Call the Midwife are three very different women who are translators and code breakers at "BP." The friendships among them—pampered debutante Osla, down-at-the-heels but ambitious Mab, and timid genius Beth—are a major focus. It isn't all brainwork, as Quinn shows the women imbibing fizzy cocktails, comparing hairdos, and partying with boyfriends (including Prince Philip!). The mood changes after the war, with the three now bitter enemies and one of them desperate to escape the mental institution where she's been confined since war's end. In 1947, on the eve of Princess Elizabeth's wedding, the women are brought together for a nail-biting and satisfying ending that finds them encrypting a letter that could hold the secret to what drove them apart at BP. Book clubbers may frown at the lengthy page count here, but soon enough they'll be devouring the novel and eager to try Quinn's backlist titles, among them The Alice Network (2017) and The Huntress (2019). From Booklist, Copyright © American Library Association. Used with permission.
Publishers Weekly
Quinn (The Huntress) returns to WWII and the secretive world of Bletchley Park in this immersive saga. Debutant Osla Kendall meets fellow Bletchley Park recruit and London East End resident Mab Churt on the train in 1940. While working at Bletchley, they share a room at the home of Beth Finch, a young woman beaten down by her demanding mother. After discovering Beth's talent for solving crosswords, Osla helps Beth get a job interview at Bletchley Park. Though Beth is shy and reclusive, she shines in her work on breaking codes. But when she discovers someone at Bletchley is likely a traitor, no one believes her. Soon, she she winds up the suspected traitor and is committed at Clockwell Sanitarium after having a mental breakdown. In 1947, almost four years later, Beth contacts Osla and Mab, who help Beth escape from Clockwell. Together, the women work to crack a code that will help them find the traitor. Quinn's page-turning narrative is enhanced by her richly drawn characters, who unite under the common purpose of Britain's war effort, and by the fascinating code-breaking techniques, which come alive via Quinn's extensive historical detail. This does not disappoint. Agent: Kevan Lyon, Marsal Lyon Literary. (Mar.) (c) Copyright PWxyz, LLC. All rights reserved.