Please call your local branch to reserve this title for your club.
Bag Contents: 10 copies
Available on Hoopla: audiobook
Summary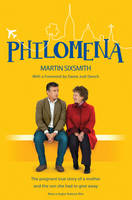 A compelling story of family secrets, love and loss - now a major film starring Judi Dench, directed by Stephen Frears When she fell pregnant as a teenager in Ireland in 1952, Philomena Lee was sent to the convent at Roscrea in Co. Tipperary to be looked after as a fallen woman. She cared for her baby for three years until the Church took him from her and sold him, like countless others, to America for adoption. Coerced into signing a document promising never to attempt to see her child again, she nonetheless spent the next fifty years secretly searching for him, unaware that he was searching for her from across the Atlantic.
Philomena's son, renamed Michael Hess, grew up to be a top Washington lawyer and a leading Republican official in the Reagan and Bush administrations. But he was a gay man in a homophobic party where he had to conceal not only his sexuality but, eventually, the fact that he had AIDs. With little time left, he returned to Ireland and the convent where he was born: his desperate quest to find his mother before he died left a legacy that was to unfold with unexpected consequences for all involved. Philomena is the tale of a mother and a son whose lives were scarred by the forces of hypocrisy on both sides of the Atlantic and of the secrets they were forced to keep. A compelling narrative of human love and loss, Martin Sixsmith's moving account is both heartbreaking yet ultimately redemptive.
Library Journal
In this book first published in the UK in 2009, Sixsmith (former foreign correspondent, BBC; Putin's Oil ) tells the story of Philomena Lee, who in 1952 was compelled to enter one of Ireland's convents where pregnant teenagers, considered reprobates by the Catholic Church, were sent to give birth. She was forced to give up her son, christened Anthony Lee, and told never to speak of him. Adopted by an American family and renamed Michael Hess, the boy grew up to become a successful lawyer for the Republican Party under Presidents Ronald Reagan and George H.W. Bush. He was also gay. Sixsmith attempts to reconstruct Philomena's and Michael's separate lives, ending with Michael's seeking to learn more about his Irish birth mother. It was one of Philomena's daughters from her subsequent marriage who asked Sixsmith to help uncover the past. Sixsmith's narrative, while emotionally compelling, lacks context and verges at times on the sensationalistic, with invented dialog and narration. (This makes it distinct from Frank McCourt's Angela's Ashes , where the author is telling his own story.) There are no source citations, bibliography, or index.
VERDICT As a film is in the works, starring Judi Dench (who provides the foreword here), this title is likely to be in demand in public libraries. However, readers looking for an objective narrative should consider James M. Smith's Ireland's Magdalene Laundries and the Nation's Architecture of Containment .— Hanna Clutterbuck, Countway Lib., Harvard Univ., Boston --Hanna Clutterbuck (Reviewed September 1, 2013) (Library Journal, vol 138, issue 16, p120).
Kirkus
/* Starred Review */ A British journalist's novelistic biography about an unwed Irish mother and the son she was forced to give up for adoption. In the sexually repressive Ireland of the 1950s, single motherhood was a mark of shame not only for girls and women, but also for their families. So when 18-year-old Philomena Lee became pregnant in late 1952, her father sent her to a convent for fallen women. Philomena worked as a virtual slave for the nuns who ran it in exchange for room and board. She gave birth to and cared for an infant son she called Anthony, a son who would be forcibly turned over to a Catholic couple willing to offer a "donation" for the privilege of adopting. Against Philomena's wishes, an American doctor and his wife adopted her son, along with a female playmate he adored. The couple renamed the boy Michael and took him and his "sister" Mary to live in the United States. Michael grew up a model child, but Sixsmith's (Russia: A 1,000-Year Chronicle of the Wild East, 2011, etc.) psychologically probing portrait of Philomena's son reveals how he also suffered from a "secret certainty of his own worthlessness," which stemmed from the pain of maternal abandonment and a growing awareness of his own homosexuality.
Michael became a successful Washington, D.C., lawyer whose expertise in gerrymandering issues garnered him the attention of Republican Party elites. Yet due to the fact that Michael could not accept himself, he indulged in darker compulsions--risky sex, alcohol and drugs--that destroyed his relationships and eventually caused him to contract AIDS. His personal tragedy was compounded by the fact that he and his mother searched for each other without success. Since the secretive Catholic Church could not reveal the sordid truth behind the adoption to either Philomena or Michael, the pair "reunited" only after Sixsmith's chance intervention--and only after it was too late. Judi Dench, who provides the foreword, will star in the upcoming film adaptation. A searingly poignant account of forced adoption and its consequences.(Kirkus Reviews, August 1, 2013)