Please call your local branch to reserve this title for your club.
Bag Contents: 10 copies + 1 audiobook
Summary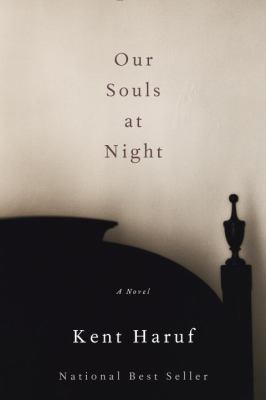 A spare yet eloquent, bittersweet yet inspiring story of a man and a woman who, in advanced age, come together to wrestle with the events of their lives and their hopes for the imminent future.
In the familiar setting of Holt, Colorado, home to all of Kent Haruf's inimitable fiction, Addie Moore pays an unexpected visit to a neighbor, Louis Waters. Her husband died years ago, as did his wife, and in such a small town they naturally have known of each other for decades; in fact, Addie was quite fond of Louis's wife. His daughter lives hours away in Colorado Springs, her son even farther away in Grand Junction, and Addie and Louis have long been living alone in houses now empty of family, the nights so terribly lonely, especially with no one to talk with.
Their brave adventures--their pleasures and their difficulties--are hugely involving and truly resonant, making Our Souls at Night the perfect final installment to this beloved writer's enduring contribution to American literature.
Booklist Review
*Starred Review* The latest novel by the highly regarded author of Plainsong (1999), Eventide (2004), and Benediction (2013) is also, sadly, his last novel; Haruf died in November 2014. It will occur to readers that even one more word added to this short and spare narrative would break Haruf's perfect harmony of place (a small town on the relatively empty Colorado plains), population (no-frills people just trying to maintain a decent existence), and plot (centering on two senior citizens seeking companionship). Addie Moore has lost her husband, and one day she boldly invites a neighbor, widower Louis, whom she does not know well, to come spend the night sleeping with her (chastely, just so that she may have someone to talk to and confide in during those particularly lonely early-morning hours). Meanwhile, Addie's grown son is in a troubled marriage, and because of that, he dumps his son on her. Her grandson's boyish energy attracts Louis even more than it does Addie, and once Louis gets the boy a dog, the three no, the four, including the delightfully affectionate new pooch form a new family unit from the spare parts surrounding them. The joy of love and togetherness drove Haruf to write his beautiful fiction in this novel as in previous ones, and his especially tender voice got his point across in quiet, intimate tones. High-Demand Backstory: The high critical and popular regard in which Haruf was held will guarantee library interest in his last novel.--Hooper, Brad Copyright 2015 Booklist
Publisher's Weekly Review
Within the first three pages of this gripping and tender novel, Addie Moore, a 70-year-old widow, invites her neighbor, Louis Waters, to sleep over. "No, not sex," she clarifies. "I'm talking about getting through the night. And lying warm in bed, companionably." Although Louis is taken off guard, the urgency of Addie's loneliness does not come across as desperate, and her logic will soon persuade him. She reasons that they're both alone (Louis's wife has also been dead for a number of years) and that, simply, "nights are the worst." What follows is a sweet love story, a deep friendship, and a delightful revival of a life neither of them was expecting, all against the backdrop of a gossiping (and at times disapproving) small town. When Addie's six-year-old grandson arrives for the summer, Addie and Louis's relationship is tested but ultimately strengthened. Addie's adult son's judgment, however, is not so easily overcome. In this book, Haruf, who died in 2014, returns to the landscape and daily life of Holt County, Colo., where his previous novels (Plainsong, Eventide, The Tie That Binds) have also been set, this time with a stunning sense of all that's passed and the precious importance of the days that remain. (May) © Copyright PWxyz, LLC. All rights reserved.
Library Journal Review
In this last novel written before his death in November 2014, acclaimed novelist -Haruf (Benediction) captures small-town life to perfection in his signature spare style. -Addie Moore and Louis Waters have been neighbors in the eastern Colorado farming town of Holt for over 40 years. Now, alone except for visits from their grown children, Addie has asked Louis to come over every evening and to stay with her in bed, just to get through the lonely nights. Louis is not a risk taker, but he's lonely, too, and so begins their companionable routine, as they talk not only about trivial matters but also about important things in the past: his affair with a local teacher, her daughter's death at age 11. Unfortunately, Addie's bullying son Gene interferes. After leaving his son Jamie with Addie for the summer, during which time the troubled boy's behavior improves markedly, Gene sees what is going on and issues an ultimatum that forces Addie to make a difficult choice. VERDICT Haruf gives a delicate touch to Addie and Louis, their enjoyment of simple pleasures, their disappointments and compromises. Poignant and eloquent, this novel resonates beyond the pages. Don't miss this exceptional work from a literary voice now stilled. [See Prepub Alert, 11/25/14.].-Donna Bettencourt, Mesa Cty. P.L., Palisade, CO © Copyright 2015. Library Journals LLC, a wholly owned subsidiary of Media Source, Inc. No redistribution permitted.