Please call your local branch to reserve this title for your club.
Bag Contents: 8 copies + 2 large prints + 1 CD audiobook
Available on Hoopla: eBook and audiobook
Summary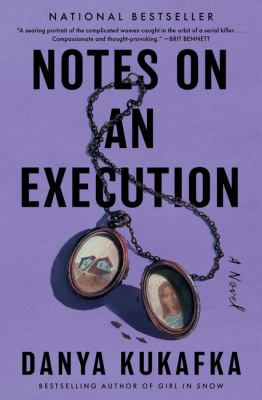 Ansel Packer is scheduled to die in twelve hours. He knows what he's done, and now awaits execution, the same chilling fate he forced on those girls, years ago. But Ansel doesn't want to die--he wants to be celebrated, understood. Through a kaleidoscope of women--a mother, a sister, a homicide detective--we learn the story of Ansel's life. As the clock ticks down, these three women sift through the choices that culminate in tragedy, exploring the rippling fissures that such destruction inevitably leaves in its wake"-- Provided by publisher.
Booklist Online
Serial killer Ansel Packer is on death row. His path to execution is revealed in flashback through the eyes of Lavender, the mother who abandoned him; Saffron Singh, the detective who tracked him; and Hazel, the sister of his wife. Lavender clings to the belief that she rescued her sons by sending child services for Ansel and his baby brother after she fled their sadistic father. In contrast, Singh has been convinced of Packer's malevolence since they were kids and she discovered his collection of mutilated animals outside their foster home. Singh has been investigating the unsolved disappearances of three local women and knows that Packer killed them, just like he did those animals years ago, but she can't crack his respectable image. When Singh finally shatters Packer's facade, the three women are caught in the explosive fallout.
Kukafka (author of young-adult thriller Girl in Snow, 2017) crafts a disturbingly remorseless killer in Packer but infuses the events that draw readers to his final moments with raw empathy and lingering questions about human evil and the the destruction left in its wake. From Booklist, Copyright © American Library Association. Used with permission.
Library Journal Review
In Kukafka's unshakable, deeply compassionate second novel (following Girl in Snow), a Death Row inmate's final hours spark a meditation on murder and our society's morbid fascination with the violent men who commit them.
Ansel Packer, inmate number 999631, killed three girls as a teenager, the justifications for which he has included in a grand Theory that will outlive him and assert his importance. But Ansel is not the only character in his story, and Kukafka smartly foregrounds her narrative on three women in his orbit: his mother Lavender, who fled the abuse of her husband by abandoning Ansel and his infant brother; Hazel, the twin sister of Ansel's ex-wife; and Saffron, a young homicide detective who once lived with Ansel in foster care. Their ordeals, which span more than four decades and intertwine in unexpected ways, show how acts of violence echo through the generations.
Kukafka wrings tremendous suspense out of a story that isn't a whodunit or even strictly a why-dunit, suspense born out of a desire to see these women transcend the identities consigned to them. VERDICT A contemporary masterpiece that sits alongside The Executioner's Song and Victim: The Other Side of Murder in the library of crime literature.—Michael Pucci, South Orange P.L., NJ (c) Copyright Library Journals LLC, a wholly owned subsidiary of Media Source, Inc. No redistribution permitted.
Publishers Weekly
This masterly thriller from Kukafka (Girl in Snow) opens on death row in a Texas prison, where Ansel Packer is scheduled to be executed by lethal injection in 12 hours. However, Packer, who's killed multiple women across the country, including in Texas and New York, isn't worried. That surprising attitude is accounted for by the early revelation that he befriended one of the prison guards and is plotting a last-minute escape. Flashbacks, starting with Packer's birth to a 17-year-old mother in 1973, trace his path from childhood to what seem to be his final hours. He grew up with an abusive father and began killing and mutilating animals when he was three. Those sections alternate with passages from the points of view of his mother, who was also abused, and of a New York State police investigator devoted to getting justice for Packer's victims. Kukafka skillfully uses the second-person present tense to heighten the drama, and toward the end she makes devastatingly clear the toll taken by Packer's killings. Megan Abbott fans will be pleased. Agent: Dana Murphy, Book Group.