With the belief that knowledge and trusted information can help guide progress and change, ProQuest Technology Company is providing free access to explore the new Black Freedom Struggle website. Visitors of all ages can find historical newspaper articles, pamphlets, diaries, correspondence and more from specific time periods in U.S. history marked by the opposition African Americans have faced on the road to freedom: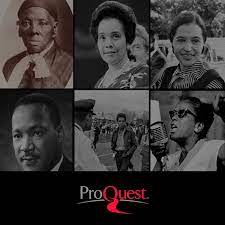 Resistance to Slavery and the Abolitionist Movement (1790-1860)
The Civil War and the Reconstruction Era (1861-1877)
Jim Crow Era from 1878 to the Great Depression (1878-1932)
The New Deal and World War II (1933-1945)
The Civil Rights and Black Power Movements (1946-1975)
The Contemporary Era (1976-2000)
By centering on the experiences and perspectives of African Americans, ProQuest hopes the Black Freedom Struggle website imbues the study of Black history with a deeper understanding of the humanity of people who have pursued the fight for civil rights, and the significance of movements like Black Lives Matter. This resource is appropriate for educators, students, and independent researchers of all ages to learn or help teach the role of the past in the present, and to prepare for the challenges of tomorrow.