Please call your local branch to reserve this title for your club.
Bag Contents: 10 copies +  1 CD audiobook
Available on Hoopla: audiobook
Summary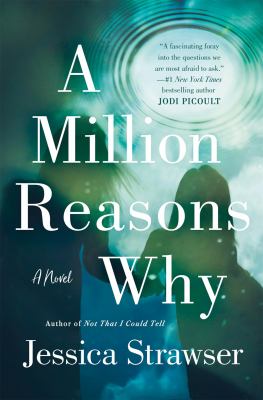 Jessica Strawser's A Million Reasons Why is a fascinating foray into the questions we are most afraid to ask" (Jodi Picoult, #1 New York Times bestselling author) --the story of two women who discover a bond between them that will change both their lives forever.
When two strangers are linked by a mail-in DNA test, it's an answered prayer-that is, for one half-sister. For the other, it will dismantle everything she knows to be true. But as they step into the unfamiliar realm of sisterhood, the roles will reverse in ways no one could have foreseen. Caroline lives a full, happy life-thriving career, three feisty children, enviable marriage, and a close-knit extended family. She couldn't have scripted it better. Except for one thing: She's about to discover her fundamental beliefs about them all are wrong. Sela lives a life in shades of gray, suffering from irreversible kidney failure. Her marriage crumbled in the wake of her illness. Her beloved mother and lifelong best friend passed away. She refuses to be defined by her grief, but still, she worries about what will happen to her two-year-old son if she doesn't find a donor match in time. She's the only one who knows Caroline is her half-sister. That Caroline may be her best hope for a future. But Sela's world isn't as clear-cut as it appears-and one misstep could destroy it all. After all, would you risk everything to save the life of the person who turned yours upside down? From the moment Caroline meets Sela, both must reexamine what it really means to be family, the depths of a mother's love, and the limits and the power of forgiveness. - Provided by publisher
Publisher's Weekly Review
Strawser (Forget You Know Me) exposes the impact of family secrets and lies in this moving if overheated story of two half sisters who discover each other through a DNA service. Caroline Porter, a happily married event planner and mother of three young children, is thrown for a loop when she gets an email out of the blue from Sela Bell, a woman claiming they have the same father. If that isn't enough of a bombshell, Caroline also discovers the truth behind a life-changing breakup years ago, when she was denied a job at the college where the then love-of-her-life had just landed the perfect faculty position. Meanwhile, Sela, divorced with a toddler, has chronic kidney disease (CKD), and Sela's need for a new kidney (Caroline is a match) creates all kinds of stress for both women and their families. Abundant melodrama in the closing chapters overshadows the otherwise fast-paced, riveting story of an expanded family negotiating Caroline's discoveries and Sela's needs, which is nonetheless enriched by details about CKD as well as the steps involved for potential organ donors. Strawser's fans will appreciate this provocative family tale.  Copyright PWxyz, LLC. All rights reserved
Library Journal Review
Caroline's family has always appeared picture-perfect. A mother of three young children, Caroline has a stable relationship with her husband, Walt; an easy relationship with her parents; and a successful career. But when Walt purchases DNA tests for Caroline's family for Christmas, everything is upended. Caroline is contacted by a woman, Sela, who is her half-sister. Suddenly, all the secrets that have been swept under the rug to save appearances are aired. Caroline's father had an affair with his wife's best friend, Rebecca, 35 years ago; he never knew that Rebecca had a child. Sela, who is the same age as Caroline, is suffering from a kidney disease and urgently needs to match with a living kidney donor. Are the tenuous bonds of their sisterhood enough to save Sela's life without destroying Caroline's relationship with her family? As long-held secrets are knocked loose and Caroline and Sela's relationship deepens, Caroline reckons with the reality of her past and present relationships. VERDICT Intertwined secrets are revealed in swift plotting that will keep readers turning the pages. This emotional family and medical drama from Strawser (Not That I Could Tell) will appeal to fans of Jodi Picoult and Liane Moriarty.  -Emily Hamstra, Seattle (c) Copyright Library Journals LLC, a wholly owned subsidiary of Media Source, Inc. No redistribution permitted.
Booklist Online
In this standout novel, an ancestry test taken on a whim becomes more than a fun distraction. Caroline Porter and her husband, Walt, never expected to have a family beyond their parents and their own children. When Caroline's DNA test reveals that she has a half-sister—and they're the same age—she questions everything about her life. Who is this woman, and why did their father stray? What do they share beyond their genes? In alternating chapters, readers find answers to these questions while also meeting Sela Bell, who has secrets of her own. Sela's failing kidney led her to join the DNA website in search of a donor. Divorced and raising a toddler, Sela is lonely and losing hope. Caroline might be her savior, if only Sela could bring herself to tell her sister about her illness. Strawser brings the seamless writing style, complex characters, and layered plot that readers will remember from Forget You Know Me (2019). The high concept will attract book groups and fans of Jodi Picoult and Carla Buckley.  - From Booklist, Copyright © American Library Association. Used with permission.