Please call your local branch to reserve this title for your club.
Bag Contents: 10 copies + 1 large print + 1 audiobook
Available on Hoopla: summaries and trivia
Summary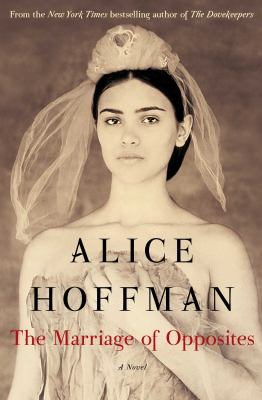 From the New York Times bestselling author of The Dovekeepers and The Museum of Extraordinary Things : a forbidden love story set on the tropical island of St. Thomas about the extraordinary woman who gave birth to painter Camille Pissarro-the Father of Impressionism.
Growing up on idyllic St. Thomas in the early 1800s, Rachel dreams of life in faraway Paris. Rachel's mother, a pillar of their small refugee community of Jews who escaped the Inquisition, has never forgiven her daughter for being a difficult girl who refuses to live by the rules. Growing up, Rachel's salvation is their maid Adelle's belief in her strengths, and her deep, life-long friendship with Jestine, Adelle's daughter. But Rachel's life is not her own. She is married off to a widower with three children to save her father's business. When her husband dies suddenly and his handsome, much younger nephew, Frédérick, arrives from France to settle the estate, Rachel seizes her own life story, beginning a defiant, passionate love affair that sparks a scandal that affects all of her family, including her favorite son, who will become one of the greatest artists of France.
Building on the triumphs of The Dovekeepers and The Museum of Extraordinary Things , set in a world of almost unimaginable beauty, The Marriage of Opposites showcases the beloved, bestselling Alice Hoffman at the height of her considerable powers. Once forgotten to history, the marriage of Rachel and Frédérick is a story that is as unforgettable as it is remarkable
Booklist Review
*Starred Review* Defiance and Wonder It may seem as though Hoffman, best-selling author of more than 30 books for adults and teens, magics spellbinding fiction out of thin air, but in fact, she often improvises on historical events and figures. In The Museum of Extraordinary Things (2014), she fictionalizes New York City's catastrophic 1911 Triangle Shirtwaist Factory fire and its ripple effect on an Orthodox Jewish family. In The Dovekeepers (2011), she presents an unusual perspective on the 70 CE siege of Masada, where 900 Jews held off Roman soldiers. Now, in The Marriage of Opposites, she offers a rare look at nineteenth-century Jewish life in the Caribbean and discloses the dramatic family history of a seminal French painter.
The novel begins in 1807 on the island of St. Thomas, a glorious natural paradise shadowed by the horrors of slavery, which, though outlawed, persists amid virulent racism. The Jewish community, made up of refugees from anti-Semitic atrocities in Europe, seeks safety in strict religious conformity. And no woman, no matter her background, has any rights, not even to her own children. Young, headstrong, yet dreamy Rachel Pomié embodies two evocative traits shared by many of Hoffman's irresistible women characters. She is awestruck by nature, reveling in and revering the island's vital, lush beauty, and she is mystically attuned to mysterious forces, especially the spirits of the dead. She is also a true original. Because her Jewish family has roots in France, that country becomes her imagination's polestar as she memorizes maps of Paris and reads voraciously in her father's extensive library. Ardently independent and sharp-tongued, she refuses to abide by racial or gender restrictions, cleaving to her best friend, Jestine, the daughter of their African cook, and turning away all suitors until her family's finances plunge, and her panicked father arranges her marriage to Isaac, a much older widower with three young children.
Rachel doesn't love her husband, but she adores his children, and she and Isaac have four more together. Then he dies, leaving Rachel without a home or livelihood. She is perfectly capable of running their shop, but legally, she must defer to her husband's family, waiting for a representative to arrive from Paris to take charge of her and her children's futures. Enter handsome, good-hearted, diligent 22-year-old Frédéric, who is expecting to meet an old lady, his aunt, technically, by marriage. Instead he is lightning-struck by voluptuous, tough, and impertinent 29-year-old Rachel. The scorching is mutual, scandalous, and condemned as incestuous and apostate by their Jewish neighbors. Hoffman discerns a mythic dimension in the intensity of their passion, the anguish of their ostracism, and their determination to secure permission to marry as their children, including their highly unusual third son, Camille, are born.
Rachel could easily have remained the focus of this beguiling novel, but as Hoffman begins to write from the point of view of the color-bedazzled, sly, rebellious, and charming boy who will become the renowned painter Camille Pissarro, a leader and mentor among the impressionists, we see the world afresh as a perpetual dance of radiance and darkness, form and space. Of course, Hoffman herself is an artist, rendering each setting with sumptuous and incandescent detail and capturing every shade and hue of suffering and bliss. As witty as she is lyrical, she writes ricocheting dialogue. This rhapsodic blend of keenly observed historical elements and vibrantly fabulistic invention generates an entrancing saga of sacrifice, forbidden loves, betrayals, and family tragedies endured in a world fractured by religion, class, and race and redeemed by art and by love. Hoffman is at her resplendent best in this trenchant and revelatory tale of a heroic woman and her world-altering artist son. .--Seaman, Donna Copyright 2010 Booklist
Publisher's Weekly Review
Hoffman (The Museum of Extraordinary Things) finds inspiration for her particular brand of magical realism in the Caribbean island of St. Thomas and the personal history of a nonfictional woman named Rachel Pomié, who lived on the colony in the 19th century. Rachel begins the story as the headstrong daughter of a French merchant, whose Jewish ancestors came to the New World in pursuit of religious freedom and found refuge under the protection of the King of Denmark, a champion of civil rights who also outlawed slavery on the island. Rachel grows up with her best friend Jestine, the beautiful daughter of her family's servant, Adelle, but upon adulthood, their paths separate. Rachel, caught up in the expectations set for her as a member of the small community, marries Isaac Petit, a widower nearly 30 years her senior with three small children, in order to help her father's business interests. She puts away her dreams of moving to Paris and accepts the role of dutiful wife, producing more children and becoming distant from Jestine, who faces her own challenges finding her place in society. When Rachel's husband dies and his nephew arrives to oversee the family business, Rachel is swept into an encompassing love that violates the community's moral code and isolates her family-but produces a son, Camille, whose peculiar way of seeing foretells his role as a leader of French Impressionism. Hoffman's subject matter and her evocative writing style are a wonderful fit for this moving story, which illuminates a historical period and women whose lives were colored by hardships, upheavals, and the subjugation of personal desires. (Aug.) © Copyright PWxyz, LLC. All rights reserved
Library Journal Review
In this lovely and imaginative fictionalized biography, Hoffman (The Museum of Extraordinary Things) reenvisions the mother of Camille Pissarro, the "father of impressionism." Rachel's Danish Jewish family fled Europe for the safety of St. Thomas shortly before her birth in 1795. At 17, she is forced into an arranged marriage to a widower with small children in order to save her father's fortune. Several years and a few more children later, she is widowed, and despite her keen business sense, the law dictates that only a blood relative of her husband can take control of the estate. When her late husband's nephew, Frédérick, arrives from France and sees -Rachel, his heart is immediately hers. Their lifelong passion defies Jewish law, which forbids their marriage for many years. Camille, one of Rachel's four children, -struggles well into adulthood against his mother's cold dismissal of his artistic brilliance, which was evident from an early age. VERDICT Hoffman brings into focus the birth of impressionism and the forces that shaped Pissarro's artistic drive through the complicated, rich, adventure-filled life story of his fiery mother, fueled by her love for her family, her stubborn flaunting of society's rules, and her deep loyalty to her friends. [See Prepub Alert, 2/9/15.]-Beth Andersen, formerly with Ann Arbor Dist. Lib., MI © Copyright 2015. Library Journals LLC, a wholly owned subsidiary of Media Source, Inc. No redistribution permitted.