Please call your local branch to reserve this title for your club.
Bag Contents: 10 copies + 1 large print + 1 audiobook
Available on Hoopla: Spanish eBook & audiobook, summaries, and trivia
Summary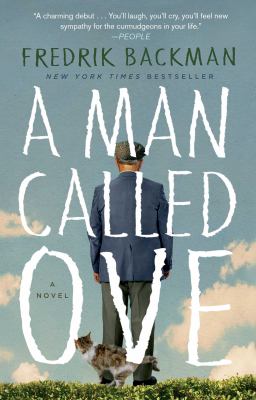 Meet Ove. He's a curmudgeon; the kind of man who points at people he dislikes as if they were burglars caught outside his bedroom window. He has staunch principles, strict routines, and a short fuse. People call him 'the bitter neighbour from hell'. But must Ove be bitter just because he doesn't walk around with a smile plastered to his face all the time? Behind the cranky exterior there is a story and a sadness. So when one November morning a chatty young couple with two chatty young daughters move in next door and accidentally flatten Ove's mailbox, it is the lead-in to a comical and heartwarming tale of unkempt cats, unexpected friendship, and the ancient art of backing up a U-Haul. All of which will change one cranky old man and a local residents' association to their very foundations.
Publisher's Weekly Review
In this Swedish bestseller, Ove is a lovably miserable neighborhood curmudgeon-think a cross between Up's Carl Fredricksen and Parks and Recreation's Ron Swanson-who spends his days inspecting his community and criticizing others, judging each by how closely he follows rules and his choice of automobile (Ove cannot reason with BMW drivers). After his handicapped wife dies and he is forced to retire from his job, Ove decides he's ready to leave the world behind. But every time he tries to off himself, he's interrupted-first by his new neighbor, the pregnant Parvaneh; then by Parvaneh's clumsy husband, Patrick; Anita, the wife of Ove's former best friend; Jimmy, Ove's overweight neighbor; Adrian, the neighborhood mailman; and finally a mangy feline Ove calls "Cat Annoyance." Ove continuously pushes his demise from one day to the next, and, as time passes, these characters slowly weave themselves into his life, offering Ove a chance at rebirth. The debut novel from journalist Backman is a fuzzy crowd-pleaser that serves up laughs to accompany a thoughtful reflection on loss and love. Though Ove's antics occasionally feel repetitive, the author writes with winning charm. (July) (c) Copyright PWxyz, LLC. All rights reserved.
Booklist Review
*Starred Review* At 59, Ove is a grumble Gus of the first degree. Rules are made to be followed, signs are meant to be obeyed, and don't even get him started about computers and mobile phones. In truth, Ove has been this way his whole life, but he's gotten worse in the last four years since his wife, Sonia, died, taking with her all the color in a world Ove sees as black-and-white. Ove has decided life without Sonia is not worth living and plans to join her in the next world. But a young couple and their two children (a third is on the way) move in next door, his oldest friend and most feared enemy is about to be forcibly removed to a nursing home, and a street-scarred cat insinuates itself into his life. Suddenly, Ove's suicide plans get delayed as he helps solve neighborly crises large and small. Though Ove's dark mission mitigates any treacly upstaging by animals and small children, readers seeking feel-good tales with a message will rave about the rantings of this solitary old man with a singular outlook. If there was an award for Most Charming Book of the Year, this first novel by a Swedish blogger-turned-overnight-sensation would win hands down.--Haggas, Carol Copyright 2014 Booklist
Library Journal Review
In this first novel from Swedish novelist Backman, a stereotypical grumpy old man, Ove, finds his quiet life of solitude slipping away when a young family moves in next door. Ove is the kind of man who yells at kids to get off his lawn and is the bane of the local residents' association. He may come across as gruff and bitter, but behind the unpleasant exterior is a dignified man with a story of love and heartbreak. The new neighbors and a scruffy cat may be the perfect combination to break Ove out of his shell and help him truly to start living. This adorable tale starts slowly but quickly gathers speed as Ove's neighbors start testing his patience and upending his sad routine. George Newbern narrates beautifully. VERDICT Witty and full of heart, this is a tale with broad appeal.-Erin Cataldi, Johnson Cty. P.L., Franklin, IN (c) Copyright 2014. Library Journals LLC, a wholly owned subsidiary of Media Source, Inc. No redistribution permitted.