Please call your local branch to reserve this title for your club.
Bag Contents: 10 copies
Summary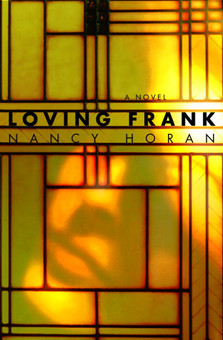 I have been standing on the side of life, watching it float by. I want to swim in the river. I want to feel the current. So writes Mamah Borthwick Cheney in her diary as she struggles to justify her clandestine love affair with Frank Lloyd Wright. Four years earlier, in 1903, Mamah and her husband, Edwin, had commissioned the renowned architect to design a new home for them. During the construction of the house, a powerful attraction developed between Mamah and Frank, and in time the lovers, each married with children, embarked on a course that would shock Chicago society and forever change their lives. In this ambitious debut novel, fact and fiction blend together brilliantly. While scholars have largely relegated Mamah to a footnote in the life of America's greatest architect, author Nancy Horan gives full weight to their dramatic love story and illuminates Cheney's profound influence on Wright. Drawing on years of research, Horan weaves little-known facts into a compelling narrative, vividly portraying the conflicts and struggles of a woman forced to choose between the roles of mother, wife, lover, and intellectual.
Horan's Mamah is a woman seeking to find her own place, her own creative calling in the world. Mamah's is an unforgettable journey marked by choices that reshape her notions of love and responsibility, leading inexorably ultimately lead to this novel's stunning conclusion. Elegantly written and remarkably rich in detail, Loving Frank is a fitting tribute to a courageous woman, a national icon, and their timeless love story. Advance praise for Loving Frank: " Loving Frank is one of those novels that takes over your life. It's mesmerizing and fascinating-filled with complex characters, deep passions, tactile descriptions of astonishing architecture, and the colorful immediacy of daily life a hundred years ago-all gathered into a story that unfolds with riveting urgency." -Lauren Belfer, author of City of Light "This graceful, assured first novel tells the remarkable story of the long-lived affair between Frank Lloyd Wright, a passionate and impossible figure, and Mamah Cheney, a married woman whom Wright beguiled and led beyond the restraint of convention. It is engrossing, provocative reading." ----Scott Turow "It takes great courage to write a novel about historical people, and in particular to give voice to someone as mythic as Frank Lloyd Wright. This beautifully written novel about Mamah Cheney and Frank Lloyd Wright's love affair is vivid and intelligent, unsentimental and compassionate." ----Jane Hamilton "I admire this novel, adore this novel, for so many reasons: The intelligence and lyricism of the prose. The attention to period detail. The epic proportions of this most fascinating love story. Mamah Cheney has been in my head and heart and soul since reading this book; I doubt she'll ever leave." -Elizabeth Berg From the Hardcover edition.
Publisher's Weekly
Review Horan's ambitious first novel is a fictionalization of the life of Mamah Borthwick Cheney, best known as the woman who wrecked Frank Lloyd Wright's first marriage. Despite the title, this is not a romance, but a portrayal of an independent, educated woman at odds with the restrictions of the early 20th century. Frank and Mamah, both married and with children, met when Mamah's husband, Edwin, commissioned Frank to design a house. Their affair became the stuff of headlines when they left their families to live and travel together, going first to Germany, where Mamah found rewarding work doing scholarly translations of Swedish feminist Ellen Key's books. Frank and Mamah eventually settled in Wisconsin, where they were hounded by a scandal-hungry press, with tragic repercussions. Horan puts considerable effort into recreating Frank's vibrant, overwhelming personality, but her primary interest is in Mamah, who pursued her intellectual interests and love for Frank at great personal cost. As is often the case when a life story is novelized, historical fact inconveniently intrudes: Mamah's life is cut short in the most unexpected and violent of ways, leaving the narrative to crawl toward a startlingly quiet conclusion. Nevertheless, this spirited novel brings Mamah the attention she deserves as an intellectual and feminist. (Aug.) (c) Copyright PWxyz, LLC. All rights reserved
Booklist Review
"In the early 1900s, married architect Frank Lloyd Wright eloped to Europe with the wife of one of his clients. The scandal rocked the suburb of Oak Park, Illinois. Years later, Mamah Cheney, the other half of the scandalous couple, was brutally murdered at Wright's Talliesen retreat. Horan blends fact and fiction to try to make the century-old scandal relevant to modern readers. Today Cheney and Wright would have little trouble obtaining divorces and would probably not be pursued by the press. However, their feelings of confusion and doubt about leaving their spouses and children would most likely remain the same. The novel has something for everyone a romance, a history of architecture, and a philosophical and political debate on the role of women. What is missing is any sort of note explaining which parts of the novel are based on fact and which are imagined. This is essential in a novel dealing with real people who lived so recently."--"Block, Marta Segal" Copyright 2007 Booklist
Library Journal Review
In 1904, architect Frank Lloyd Wright designed a house for Edwin and Mamah Borthwick Cheney, respectable members of Oak Park, IL, society. Five years later, after a clandestine affair, Frank and Mamah scandalized that society by leaving their families to live together in Europe. Stunned by the furor, Mamah wanted to stay there, particularly after she met women's rights advocate Ellen Key, who rejected conventional ideas of marriage and divorce. Eventually, Frank convinced her to return to Wisconsin, where he was building Taliesin as a home and retreat. Horan's extensive research provides substantial underpinnings for this engrossing novel, and the focus on Mamah lets readers see her attraction to the creative, flamboyant architect but also her recognition of his arrogance. Mamah's own drive to achieve something important is tinged with guilt over abandoning her children. Tentative steps toward reconciliation end in a shocking, violent conclusion that would seem melodramatic if it weren't based on true events. The plot, characters, and ideas meld into a novel that will be a treat for fans of historical fiction but should not be pigeonholed in a genre section. Highly recommended. [See Prepub Alert, LJ 4/1/07.]-Kathy Piehl, Minnesota State Univ. Lib., Mankato (c) Copyright 2010. Library Journals LLC, a wholly owned subsidiary of Media Source, Inc. No redistribution permitted.