Please call your local branch to reserve this title for your club.
Bag Contents: 10 copies + 1 large print + 1 audiobook
Available on Hoopla: audiobook
Summary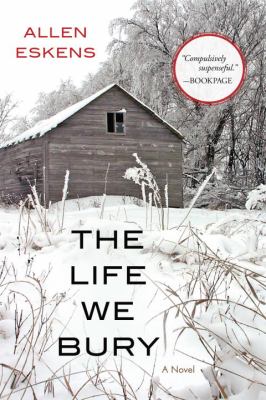 College student Joe Talbert has the modest goal of completing a writing assignment for an English class. His task is to interview a stranger and write a brief biography of the person. With deadlines looming, Joe heads to a nearby nursing home to find a willing subject. There he meets Carl Iverson, and soon nothing in Joe's life is ever the same.
Iverson is a dying Vietnam veteran--and a convicted murderer. With only a few months to live, he has been medically paroled to a nursing home, after spending thirty years in prison for the crimes of rape and murder.
As Joe writes about Carl's life, especially Carl's valor in Vietnam, he cannot reconcile the heroism of the soldier with the despicable acts of the convict. Joe, along with his skeptical female neighbor, throws himself into uncovering the truth, but he is hamstrung in his efforts by having to deal with his dangerously dysfunctional mother, the guilt of leaving his autistic brother vulnerable, and a haunting childhood memory.
Thread by thread, Joe unravels the tapestry of Carl's conviction. But as he and Lila dig deeper into the circumstances of the crime, the stakes grow higher. Will Joe discover the truth before it's too late to escape the fallout?
Booklist Review
The premise of this gripping thriller isn't entirely believable a college student transforms himself into a supersleuth but in the rush to turn pages, readers will be glad to give debut author Eskens the benefit of the doubt. University of Minnesota freshman Joe Talbot visits a nursing home looking for someone to interview for an English assignment in which he must compose a brief biography of a stranger. Carl Iverson, who spent 30 years in prison for rape and murder and is now dying of cancer, isn't what Joe had in mind, but he accepts the challenge and, soon enough, sets out to prove the man's innocence. Meanwhile, his alcoholic mother is incapable of caring for Joe's autistic brother, leaving Joe faced with sacrificing his education to protect his brother. Eskens jumps effectively between both plots, as Joe and his neighbor, a young woman with her own troubled past, are drawn into Iverson's case and begin uncovering details that some would prefer to keep buried. The tension builds to an all-stops-out finale that works on every level. Thriller fans should keep their eyes on Eskens; he's a comer.--Ott, Bill Copyright 2014 Booklist
Publisher's Weekly Review
Joe Talbert, the hero of Eskens's masterful debut, has worked hard to earn the money to leave home and pursue an education at the University of Minnesota, but his alcoholic mother, who's unable to provide proper care for his autistic brother, keeps demanding his money and time. Joe's life takes a harrowing turn when he visits a nursing home in Richfield, Minn., in search of a subject for a class assignment-to write a person's biography. Joe chooses one of the only patients not affected with dementia, Carl Iverson, who, he soon discovers, was convicted decades earlier of the murder and rape of a 14-year-old girl. Recently paroled after serving 30 years of a life sentence because he's dying of pancreatic cancer, Carl agrees to tell Joe his story. Prodded by Lila Nash, his attractive college student neighbor, Joe immerses himself in the crime and Carl's trial. As Joe learns more about the events of the murder, he is faced with several threats to his own safety, yet refuses to give up his pursuit of the truth. More complications ensue, until the novel's satisfying resolution. Agent: Amy Cloughley, Kimberley Cameron Agency. (Oct.) © Copyright PWxyz, LLC. All rights reserved.