Please call your local branch to reserve this title for your club.
Bag Contents: 10 copies + 1 large print + 1 audiobook
Available on Hoopla: eBook, audiobook, & summaries
Summary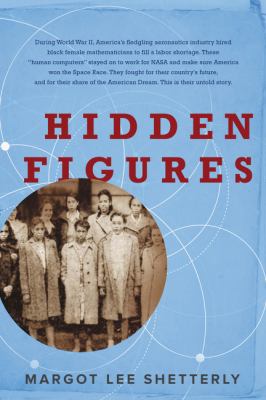 The phenomenal true story of the black female mathematicians at NASA at the leading edge of the feminist and civil rights movement, whose calculations helped fuel some of America's greatest achievements in space--a powerful, revelatory contribution that is as essential to our understanding of race, discrimination, and achievement in modern America as Between the World and Me and The Immortal Life of Henrietta Lacks. A major motion picture starring Taraji P. Henson, Octavia Spencer, Janelle Monae, Kirsten Dunst, and Kevin Costner.
Before John Glenn orbited the earth, or Neil Armstrong walked on the moon, a group of dedicated female mathematicians known as "human computers" used pencils, slide rules and adding machines to calculate the numbers that would launch rockets, and astronauts, into space.
Among these problem-solvers were a group of exceptionally talented African American women, some of the brightest minds of their generation. Originally relegated to teaching math in the South's segregated public schools, they were called into service during the labor shortages of World War II, when America's aeronautics industry was in dire need of anyone who had the right stuff. Suddenly, these overlooked math whizzes had a shot at jobs worthy of their skills, and they answered Uncle Sam's call, moving to Hampton, Virginia and the fascinating, high-energy world of the Langley Memorial Aeronautical Laboratory.
Even as Virginia's Jim Crow laws required them to be segregated from their white counterparts, the women of Langley's all-black "West Computing" group helped America achieve one of the things it desired most: a decisive victory over the Soviet Union in the Cold War, and complete domination of the heavens.
Starting in World War II and moving through to the Cold War, the Civil Rights Movement and the Space Race, Hidden Figures follows the interwoven accounts of Dorothy Vaughan, Mary Jackson, Katherine Johnson and Christine Darden, four African American women who participated in some of NASA's greatest successes. It chronicles their careers over nearly three decades they faced challenges, forged alliances and used their intellect to change their own lives, and their country's future.
Booklist Review
*Starred Review* On a trip home to Hampton, Virginia, Shetterly stumbled upon an overlooked aspect of American history that is almost mythic in scope. As the daughter of an engineer who became a highly respected scientist, she was aware of the town's close ties to NASA's nearby Langley Research Center and also of the high number of African Americans, like him, who worked there. What she did not know was that many of the women, particularly African American women, were employed not as secretaries but as computers: individuals capable of making accurate mathematical calculations at staggering speed who ultimately contributed to the agency's aerodynamic and space projects on an impressive scale. Shetterly does an outstanding job of weaving the nearly unbelievable stories of these women into the saga of NASA's history (as well as its WWII-era precursor) while simultaneously keeping an eye on the battle for civil rights that swirled around them. This is an incredibly powerful and complex story, and Shetterly has it down cold. The breadth of her well-documented research is immense, and her narrative compels on every level. With a major movie due out in January, this book-club natural will be in demand.--Mondor, Colleen Copyright 2016 Booklist
Publisher's Weekly Review
Shetterly, founder of the Human Computer Project, passionately brings to light the important and little-known story of the black women mathematicians hired to work as computers at the Langley Memorial Aeronautical Laboratory in Hampton, Va., part of the National Advisory Committee for Aeronautics (NASA's precursor). The first women NACA brought on took advantage of a WWII opportunity to work in a segregated section of Langley, doing the calculations necessary to support the projects of white male engineers. Shetterly writes of these women as core contributors to American success in the midst of a cultural "collision between race, gender, science, and war," teasing out how the personal and professional are intimately related. She celebrates the skills of mathematicians such as Dorothy Vaughan, Katherine Johnson, Mary Jackson, and Dorothy Hoover, whose brilliant work eventually earned them slow advancement but never equal footing. Shetterly collects much of her material directly from those who were there, using personal anecdotes to illuminate the larger forces at play. Exploring the intimate relationships among blackness, womanhood, and 20th-century American technological development, Shetterly crafts a narrative that is crucial to understanding subsequent movements for civil rights. A star-studded feature film based on Shetterly's book is due out in late 2016. (Sept.) © Copyright PWxyz, LLC. All rights reserved.
Library Journal Review
In this debut, Shetterly shines a much-needed light on the bright, talented, and wholly underappreciated geniuses of the institution that would become NASA. Called upon during the labor shortage of World War II, these women were asked to serve their country and put their previously overlooked skills to work-all while being segregated from their white coworkers. The author tells the compelling stories of Dorothy Vaughan, Mary Jackson, Katherine Johnson, and Christine Darden as they navigated mathematical equations, the space race, and the civil rights movement over three decades of brilliant computing and discoveries. The professional and private lives of the ladies of Langley Research Center are documented through an impassioned and clearly well-researched narrative. Readers will learn how integral these women were to American aeronautics and be saddened by the racism and sexism that kept them from deserved recognition. VERDICT Shetterly's highly recommended work offers up a crucial history that had previously and unforgivably been lost. We'd do well to put this book into the hands of young women who have long since been told that there's no room for them at the scientific table. [See Prepub Alert, 3/21/16; "Editors' Fall Picks," p. 27.]-Kate DiGirolomo, Library Journal © Copyright 2016. Library Journals LLC, a wholly owned subsidiary of Media Source, Inc. No redistribution permitted.