Please call your local branch to reserve this title for your club.
Bag Contents: 10 copies
Summary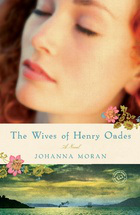 When Henry Oades accepts an accountancy post in New Zealand, his wife, Margaret, and their children follow him to exotic Wellington. But while Henry is an adventurer, Margaret is not. Their new home is rougher and more rustic than they expected--and a single night of tragedy shatters the family when the native Maori stage an uprising, kidnapping Margaret and her children.
For months, Henry scours the surrounding wilderness, until all hope is lost and his wife and children are presumed dead. Grief-stricken, he books passage to California. There he marries Nancy Foreland, a young widow with a new baby, and it seems they've both found happiness in the midst of their mourning--until Henry's first wife and children show up, alive and having finally escaped captivity.
Narrated primarily by the two wives, and based on a real-life legal case, The Wives of Henry Oades is the riveting story of what happens when Henry, Margaret, and Nancy face persecution for bigamy. Exploring the intricacies of marriage, the construction of family, the changing world of the late 1800s, and the strength of two remarkable women, Johanna Moran turns this unusual family's story into an unforgettable page-turning drama.
Publisher's Weekly Review
An English accountant and his two wives are the subject of this intriguing and evocative debut novel based on a real-life 19th-century California bigamy case. A loving husband and attentive father, Henry Oades assures his wife, Margaret, that his posting to New Zealand will be temporary and the family makes the difficult journey. But during a Maori uprising, Margaret and her four children are kidnapped and the Oades's house is torched. Convinced his family is dead, Henry relocates to California and marries Nancy, a sad 20-year-old pregnant widow. When Margaret and the children escape, eventually making their way to California and Henry's doorstep, he does the decent thing by being a husband to both wives and father to all their offspring, a situation deemed indecent by the Berkeley Daughters of Decency.
Moran presents Henry's story as if making a case in court, facts methodically revealed with just enough detail for the reader to form an independent opinion. But it's Margaret surviving the wilderness, Nancy overcoming grief and the two women bonding that give the book its heart and should make this a book group winner. (Mar.) (c) Copyright PWxyz, LLC. All rights reserved
Library Journal Review
When Henry Oades is posted to New Zealand in 1890, he considers the move a chance for adventure. Content with life in London, Margaret reluctantly accompanies him with their children. When their isolated cottage is attacked by the Maori, Margaret and the children are abducted and presumed dead. Fleeing from his memories, Henry resettles in California, where he marries Nancy, a young widow with a baby. Six years later, Margaret and her children, having finally escaped captivity, arrive at Henry's Berkeley farm. Weathering threats, harassment, and lawsuits, Nancy and Margaret slowly develop a supportive relationship that enables their blended family to survive.
Verdict- Told mainly from the wives' perspectives, the story hinges on readers' empathy with their unusual predicament. Other characters are somewhat flat. Even unflappable Henry remains a bit of an enigma. Still, Moran's debut, based on the true case of Henry Oades, acquitted of bigamy three times, will intrigue historical fiction fans and provide plenty of discussion points for book clubs.-Kathy Piehl, Minnesota State Univ. Lib., Mankato (c) Copyright 2010. Library Journals LLC, a wholly owned subsidiary of Media Source, Inc. No redistribution permitted.