Please call your local branch to reserve this title for your club.
Bag Contents: 10 copies
Available on Hoopla: summaries and guides
Summary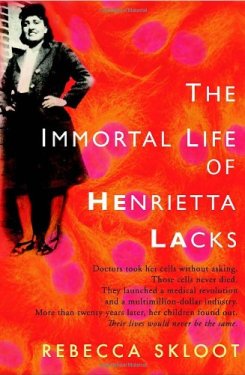 Her name was Henrietta Lacks, but scientists know her as HeLa. She was a poor Southern tobacco farmer who worked the same land as her slave ancestors, yet her cells--taken without her knowledge--became one of the most important tools in medicine. The first "immortal" human cells grown in culture, they are still alive today, though she has been dead for more than sixty years. If you could pile all HeLa cells ever grown onto a scale, they'd weigh more than 50 million metric tons--as much as a hundred Empire State Buildings. HeLa cells were vital for developing the polio vaccine, uncovered secrets of cancer, viruses, and the atom bomb's effects; helped lead to important advances like in vitro fertilization, cloning, and gene mapping; and have been bought and sold by the billions. Yet Henrietta Lacks remains virtually unknown, buried in an unmarked grave. Now Rebecca Skloot takes us on an extraordinary journey, from the "colored" ward of Johns Hopkins Hospital in the 1950s to stark white laboratories with freezers full of HeLa cells; from Henrietta's small, dying hometown of Clover, Virginia--a land of wooden slave quarters, faith healings, and voodoo--to East Baltimore today, where her children and grandchildren live and struggle with the legacy of her cells.
Henrietta's family did not learn of her "immortality" until more than twenty years after her death, when scientists investigating HeLa began using her husband and children in research without informed consent. And though the cells had launched a multimillion-dollar industry that sells human biological materials, her family never saw any of the profits. As Rebecca Skloot so brilliantly shows, the story of the Lacks family--past and present--is inextricably connected to the dark history of experimentation on African Americans, the birth of bioethics, and the legal battles over whether we control the stuff we are made of. Over the decade it took to uncover this story, Rebecca became enmeshed in the lives of the Lacks family--especially Henrietta's daughter Deborah, who was devastated to learn about her mother's cells. She was consumed with questions: Had scientists cloned her mother? Did it hurt her when researchers infected her cells with viruses and shot them into space? What happened to her sister, Elsie, who died in a mental institution at the age of fifteen? And if her mother was so important to medicine, why couldn't her children afford health insurance? Intimate in feeling, astonishing in scope, and impossible to put down, The Immortal Life of Henrietta Lacks captures the beauty and drama of scientific discovery, as well as its human consequences.
Publisher's Weekly Review
Science journalist Skloot makes a remarkable debut with this multilayered story about "faith, science, journalism, and grace." It is also a tale of medical wonders and medical arrogance, racism, poverty and the bond that grows, sometimes painfully, between two very different women-Skloot and Deborah Lacks-sharing an obsession to learn about Deborah's mother, Henrietta, and her magical, immortal cells. Henrietta Lacks was a 31-year-old black mother of five in Baltimore when she died of cervical cancer in 1951. Without her knowledge, doctors treating her at Johns Hopkins took tissue samples from her cervix for research. They spawned the first viable, indeed miraculously productive, cell line-known as HeLa. These cells have aided in medical discoveries from the polio vaccine to AIDS treatments. What Skloot so poignantly portrays is the devastating impact Henrietta's death and the eventual importance of her cells had on her husband and children. Skloot's portraits of Deborah, her father and brothers are so vibrant and immediate they recall Adrian Nicole LeBlanc's Random Family. Writing in plain, clear prose, Skloot avoids melodrama and makes no judgments. Letting people and events speak for themselves, Skloot tells a rich, resonant tale of modern science, the wonders it can perform and how easily it can exploit society's most vulnerable people. (Feb.) (c) Copyright PWxyz, LLC. All rights reserved
Booklist Review
*Starred Review* The first immortal human cells, code-named HeLa, have flourished by the trillions in labs all around the world for more than five decades, making possible the polio vaccine, chemotherapy, and many more crucial discoveries. But where did the HeLa cells come from? Science journalist Skloot spent 10 years arduously researching the complex, tragic, and profoundly revealing story of Henrietta Lacks, a 31-year-old African American mother of five who came to Johns Hopkins with cervical cancer in 1951, and from whom tumor samples were taken without her knowledge or that of her family. Henrietta died a cruel death and was all but forgotten, while her miraculous cells live on, growing with mythological intensity. Skloot travels to tiny Clover, Virginia; learns that Henrietta's family tree embraces black and white branches; becomes close to Henrietta's daughter, Deborah; and discovers that although the HeLa cells have improved countless lives, they have also engendered a legacy of pain, a litany of injustices, and a constellation of mysteries. Writing with a novelist's artistry, a biologist's expertise, and the zeal of an investigative reporter, Skloot tells a truly astonishing story of racism and poverty, science and conscience, spirituality and family driven by a galvanizing inquiry into the sanctity of the body and the very nature of the life force.--Seaman, Donna Copyright 2009 Booklist
Library Journal Review
This distinctive work skillfully puts a human face on the bioethical questions surrounding the HeLa cell line. Henrietta Lacks, an African American mother of five, was undergoing treatment for cancer at Johns Hopkins University in 1951 when tissue samples were removed without her knowledge or permission and used to create HeLa, the first "immortal" cell line. HeLa has been sold around the world and used in countless medical research applications, including the development of the polio vaccine. Science writer Skloot, who worked on this book for ten years, entwines Lacks's biography, the development of the HeLa cell line, and her own story of building a relationship with Lacks's children. Full of dialog and vivid detail, this reads like a novel, but the science behind the story is also deftly handled. Verdict While there are other titles on this controversy (e.g., Michael Gold's A Conspiracy of Cells: One Woman's Immortal Legacy-and the Medical Scandal It Caused), this is the most compelling account for general readers, especially those interested in questions of medical research ethics. Highly recommended. [See Skloot's essay, p. 126; Prepub Alert, LJ 11/1/09.]-Carla Lee, Univ. of Virginia Lib., Charlottesville (c) Copyright 2010. Library Journals LLC, a wholly owned subsidiary of Media Source, Inc. No redistribution permitted.