Please call your local branch to reserve this title for your club.
Bag Contents: 10 copies
Available on Hoopla: summaries
Summary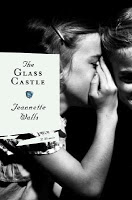 Jeannette Walls grew up with parents whose ideals and stubborn nonconformity were both their curse and their salvation. Rex and Rose Mary Walls had four children. In the beginning, they lived like nomads, moving among Southwest desert towns, camping in the mountains. Rex was a charismatic, brilliant man who, when sober, captured his children's imagination, teaching them physics, geology, and above all, how to embrace life fearlessly. Rose Mary, who painted and wrote and couldn't stand the responsibility of providing for her family, called herself an "excitement addict." Cooking a meal that would be consumed in fifteen minutes had no appeal when she could make a painting that might last forever. Later, when the money ran out, or the romance of the wandering life faded, the Walls retreated to the dismal West Virginia mining town -- and the family -- Rex Walls had done everything he could to escape. He drank. He stole the grocery money and disappeared for days. As the dysfunction of the family escalated, Jeannette and her brother and sisters had to fend for themselves, supporting one another as they weathered their parents' betrayals and, finally, found the resources and will to leave home.
What is so astonishing about Jeannette Walls is not just that she had the guts and tenacity and intelligence to get out, but that she describes her parents with such deep affection and generosity. Hers is a story of triumph against all odds, but also a tender, moving tale of unconditional love in a family that despite its profound flaws gave her the fiery determination to carve out a successful life on her own terms. For two decades, Jeannette Walls hid her roots. Now she tells her own story. A regular contributor to MSNBC.com, she lives in New York and Long Island and is married to the writer John Taylor.
Publisher's Weekly Review
Freelance writer Walls doesn't pull her punches. She opens her memoir by describing looking out the window of her taxi, wondering if she's "overdressed for the evening" and spotting her mother on the sidewalk, "rooting through a Dumpster." Walls's parents-just two of the unforgettable characters in this excellent, unusual book-were a matched pair of eccentrics, and raising four children didn't conventionalize either of them. Her father was a self-taught man, a would-be inventor who could stay longer at a poker table than at most jobs and had "a little bit of a drinking situation," as her mother put it.
With a fantastic storytelling knack, Walls describes her artist mom's great gift for rationalizing. Apartment walls so thin they heard all their neighbors? What a bonus-they'd "pick up a little Spanish without even studying." Why feed their pets? They'd be helping them "by not allowing them to become dependent." While Walls's father's version of Christmas presents-walking each child into the Arizona desert at night and letting each one claim a star-was delightful, he wasn't so dear when he stole the kids' hard-earned savings to go on a bender. The Walls children learned to support themselves, eating out of trashcans at school or painting their skin so the holes in their pants didn't show. Buck-toothed Jeannette even tried making her own braces when she heard what orthodontia cost. One by one, each child escaped to New York City. Still, it wasn't long before their parents appeared on their doorsteps. "Why not?" Mom said. "Being homeless is an adventure." Agent, Jennifer Rudolph Walsh. (Apr.) (c) Copyright PWxyz, LLC. All rights reserved
Booklist Review
Walls, who spent years trying to hide her childhood experiences, allows the story to spill out in this remarkable recollection of growing up. From her current perspective as a contributor to MSNBC online, she remembers the poverty, hunger, jokes, and bullying she and her siblings endured, and she looks back at her parents: her flighty, self-indulgent mother, a Pollyanna unwilling to assume the responsibilities of parenting, and her father, troubled, brilliant Rex, whose ability to turn his family's downward-spiraling circumstances into adventures allowed his children to excuse his imperfections until they grew old enough to understand what he had done to them--and to himself. His grand plans to build a home for the family never evolved: the hole for the foundation of the The Glass Castle, as the dream house was called, became the family garbage dump, and, of course, a metaphor for Rex Walls' life.
Shocking, sad, and occasionally bitter, this gracefully written account speaks candidly, yet with surprising affection, about parents and about the strength of family ties--for both good and ill. --Stephanie Zvirin Copyright 2005 Booklist