Please call your local branch to reserve this title for your club.
Bag Contents: 10 copies
Summary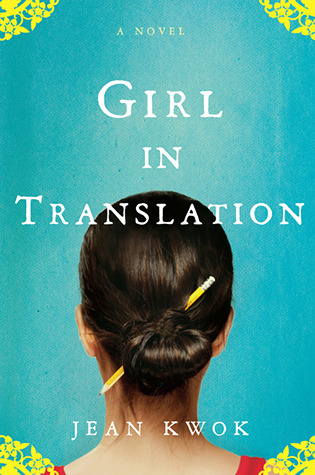 Introducing a fresh, exciting Chinese-American voice, an inspiring debut about an immigrant girl forced to choose between two worlds and two futures. When Kimberly Chang and her mother emigrate from Hong Kong to Brooklyn squalor, she quickly begins a secret double life: exceptional schoolgirl during the day, Chinatown sweatshop worker in the evenings. Disguising the more difficult truths of her life-like the staggering degree of her poverty, the weight of her family's future resting on her shoulders, or her secret love for a factory boy who shares none of her talent or ambition-Kimberly learns to constantly translate not just her language but herself back and forth between the worlds she straddles.
Through Kimberly's story, author Jean Kwok, who also emigrated from Hong Kong as a young girl, brings to the page the lives of countless immigrants who are caught between the pressure to succeed in America, their duty to their family, and their own personal desires, exposing a world that we rarely hear about. Written in an indelible voice that dramatizes the tensions of an immigrant girl growing up between two cultures, surrounded by a language and world only half understood, Girl in Translation is an unforgettable and classic novel of an American immigrant-a moving tale of hardship and triumph, heartbreak and love, and all that gets lost in translation.
Publisher's Weekly Review
A resolute yet naive Chinese girl confronts poverty and culture shock with equal zeal when she and her mother immigrate to Brooklyn in Kwok's affecting coming-of-age debut. Ah-Kim Chang, or Kimberly as she is known in the U.S., had been a promising student in Hong Kong when her father died. Now she and her mother are indebted to Kimberly's Aunt Paula, who funded their trip from Hong Kong, so they dutifully work for her in a Chinatown clothing factory where they earn barely enough to keep them alive.
Despite this, and living in a condemned apartment that is without heat and full of roaches, Kimberly excels at school, perfects her English, and is eventually admitted to an elite, private high school. An obvious outsider, without money for new clothes or undergarments, she deals with added social pressures, only to be comforted by an understanding best friend, Annette, who lends her makeup and hands out American advice. A love interest at the factory leads to a surprising plot line, but it is the portrayal of Kimberly's relationship with her mother that makes this more than just another immigrant story. (May) (c) Copyright PWxyz, LLC. All rights reserved
Booklist Review
Drawing on Kwok's personal experience, this debut novel tells a contemporary immigration story of heartbreaking struggle and wild success. Ah Kim, 11, leaves Hong Kong in the 1980s and moves with Ma into a freezing Brooklyn slum apartment infested with roaches and rats. The hostile teacher calls Kimberly a cheat when she gets good grades. After school, she helps Ma reach her quota in a clothing factory in Chinatown, sometimes until midnight.
In simple, searing, richly detailed prose, Kwok captures the anguish of the struggle, including the illegal factory work and child labor, but eventually, as fortunes change, the novel becomes a rags-to-riches story (Kimberly gets into a top high school and then Yale). Success, however, brings the universal immigrant lament of not fitting in. Kim cannot get the rules of fighting and flirting, and her misunderstandings are both hilarious and wrenching. I wanted to be part of things but I had no idea how. And, always, there are those who don't make it. Immigrants, new and old, will find much to savor here, from the drama of family secrets to the confusing coming-of-age.--Rochman, Hazel Copyright 2010 Booklist
Library Journal Review
Living in squalor among rats and roaches in a virtually abandoned unheated apartment building in Brooklyn, NY, 11-year-old Kimberly Chang narrates how, after recently immigrating from Hong Kong, she and her mother strive to eke out a life together working in an illegally run sweat shop. Though she was once the top-ranked pupil in her class in Hong Kong, Kimberly's English skills are so limited that she must struggle to keep up in school while still translating for her mother and attempting to hide the truth of her living situation from her well-to-do classmates and only true friend, Annette.
Drawing on her own experiences as an immigrant from Hong Kong (though she herself went to Harvard and Columbia, while Kimberly earns a spot at Yale), Kwok adeptly captures the hardships of the immigrant experience and the strength of the human spirit to survive and even excel despite the odds. Verdict Reminiscent of An Na's award-winning work for younger readers, A Step from Heaven, this work will appeal to both adults and teens and is appropriate for larger public libraries, especially those serving large Asian American populations.-Shirley N. Quan, Orange Cty. Lib., Santa Ana, CA (c) Copyright 2010. Library Journals LLC, a wholly owned subsidiary of Media Source, Inc. No redistribution permitted.