Please call your local branch to reserve this title for your club.
Bag Contents: 10 copies
Available on Hoopla: reader's companion & summaries
Summary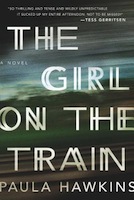 A debut psychological thriller that will forever change the way you look at other people's lives. Rachel takes the same commuter train every morning. Every day she rattles down the track, flashes past a stretch of cozy suburban homes, and stops at the signal that allows her to daily watch the same couple breakfasting on their deck. She's even started to feel like she knows them. "Jess and Jason," she calls them. Their life--as she sees it--is perfect. Not unlike the life she recently lost. And then she sees something shocking. It's only a minute until the train moves on, but it's enough. Now everything's changed. Unable to keep it to herself, Rachel offers what she knows to the police, and becomes inextricably entwined in what happens next, as well as in the lives of everyone involved. Has she done more harm than good? The Girl on the Train is an emotionally immersive, Hitchcockian thriller and an electrifying debut.
Publisher's Weekly Review
Rachel Watson, the principal narrator of Hawkins's psychologically astute debut, is obsessed with her ex-husband, Tom. She's having a hard time putting the past behind her, especially since she confronts it daily, during the hourlong commute to London from her rented room in Ashbury, Oxfordshire, when her train passes the Victorian house she once shared with Tom. She also frequently spies an attractive couple, four doors down from her former home, who she imagines to be enjoying the happily-ever-after that eluded her. Then, suddenly, the woman, pixie-ish blonde Megan Hipwell, vanishes-only to turn up on the front page of the tabloids as missing. The police want to question Rachel, after Anna, Tom's new wife, tells them that Rachel was in the area drunkenly out of control around the time of Megan's disappearance. Hawkins, formerly deputy personal finance editor of the Times of London, deftly shifts between the accounts of the addled Rachel, as she desperately tries to remember what happened, Megan, and, eventually, Anna, for maximum suspense. The surprise-packed narratives hurtle toward a stunning climax, horrifying as a train wreck and just as riveting. Agent: Lizzy Kremer, David Higham Associates (U.K.). (Jan.) © Copyright PWxyz, LLC. All rights reserved.
Booklist Review
*Starred Review* Melding the voyeurism of Rear Window with the unreliable narration of Gone Girl (2012), Hawkins delivers a riveting thriller. Rachel commutes to London each day, pretending to go to a job she got sacked from months ago for being drunk. Her ex-husband left her for Megan, and now they have a baby and are living in the home Rachel so lovingly decorated. Almost every day, from the train window, she sees Anna and Scott, who live two doors down from her old home. Rachel vividly imagines Anna and Scott's perfect life (she calls them the golden couple), giving them elaborate backstories; however, one day she sees Anna kissing a man who is not her husband; the very next day, Anna goes missing. Rachel inserts herself into the investigation with a headlong desperation, keen to find a way to give her life meaning, and what she discovers is surprising on every level. The novel is alternately narrated by three equally unlikable women, and Hawkins very deliberately doles out tantalizing information, but what really gives this novel its compulsive readability is the way she so expertly mines female archetypes: the jealous ex-wife, the smug mistress, the emotionally damaged femme fatale. Hawkins makes voyeurs of her readers as she creates one humiliating scene after another with the women's near-feral emotions on full display. A wicked thriller, cleverly done. HIGH-DEMAND BACKSTORY: This may well be the next Gone Girl, with foreign rights sold in 20 countries and film rights optioned to DreamWorks.--Wilkinson, Joanne Copyright 2014 Booklist
Library Journal Review
Every day, Rachel takes the same London commuter train and passes the same suburban scenery, yet one house catches her eye-mainly because of the married couple she glimpses living there. This leads Rachel to conjure up an entire dream life for this husband and wife, even naming them and giving them make-believe careers. Rachel's life has been spiraling downward, and her fantasy about this couple gives her a little joy. But all is not what it seems and Rachel is soon embroiled in a murderous thriller. Each chapter is narrated by either Rachel or Anna, who's married to Rachel's ex-husband, or, Megan, the woman Rachel sees from the train, but, unfortunately, by using this format, debut author Hawkins confuses the reader. With only a brief look into backstory, undeveloped characters offer no reason or motivation for their actions, and none of them is likable. VERDICT This disappointing psychological thriller is being touted as the next Gone Girl and has already been purchased for film adaptation. So while it may not be the best, it will be popular. For fans of Sophie Hannah or S.J. Watson. [See Prepub Alert, 7/21/14.]-Marianne Fitzgerald, Severna Park H.S., MD (c) Copyright 2014. Library Journals LLC, a wholly owned subsidiary of Media Source, Inc. No redistribution permitted.