Please call your local branch to reserve this title for your club.
Bag Contents: 10 copies
Available on Hoopla: eBook and audiobook
Summary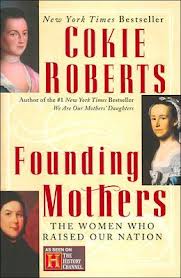 Cokie Roberts's number one New York Times bestseller, We Are Our Mothers' Daughters, examined the nature of women's roles throughout history and led USA Today to praise her as a "custodian of time-honored values." Her second bestseller, From This Day Forward, written with her husband, Steve Roberts, described American marriages throughout history, including the romance of John and Abigail Adams. Now Roberts returns with Founding Mothers, an intimate and illuminating look at the fervently patriotic and passionate women whose tireless pursuits on behalf of their families -- and their country -- proved just as crucial to the forging of a new nation as the rebellion that established it.
While much has been written about the men who signed the Declaration of Independence, battled the British, and framed the Constitution, the wives, mothers, sisters, and daughters they left behind have been little noticed by history. Roberts brings us the women who fought the Revolution as valiantly as the men, often defending their very doorsteps. While the men went off to war or to Congress, the women managed their businesses, raised their children, provided them with political advice, and made it possible for the men to do what they did. The behind-the-scenes influence of these women -- and their sometimes very public activities -- was intelligent and pervasive.Drawing upon personal correspondence, private journals, and even favored recipes, Roberts reveals the often surprising stories of these fascinating women, bringing to life the everyday trials and extraordinary triumphs of individuals like Abigail Adams, Mercy Otis Warren, Deborah Read Franklin, Eliza Pinckney, Catherine Littlefield Green, Esther DeBerdt Reed, and Martha Washington -- proving that without our exemplary women, the new country might never have survived.
Social history at its best, Founding Mothers unveils the drive, determination, creative insight, and passion of the other patriots, the women who raised our nation. Roberts proves beyond a doubt that like every generation of American women that has followed, the founding mothers used the unique gifts of their gender -- courage, pluck, sadness, joy, energy, grace, sensitivity, and humor -- to do what women do best, put one foot in front of the other in remarkable circumstances and carry on.
Publisher's Weekly Review
ABC News political commentator and NPR news analyst Roberts didn't intend this as a general history of women's lives in early America-she just wanted to collect some great "stories of the women who influenced the Founding Fathers." For while we know the names of at least some of these women (Martha Washington, Abigail Adams, Eliza Pinckney), we know little about their roles in the Revolutionary War, the writing of the Constitution, or the politics of our early republic.
In rough chronological order, Roberts introduces a variety of women, mostly wives, sisters or mothers of key men, exploring how they used their wit, wealth or connections to influence the men who made policy. As high-profile players married into each other's families, as wives died in childbirth and husbands remarried, it seems as if early America-or at least its upper crust-was indeed a very small world. Roberts's style is delightfully intimate and confiding: on the debate over Mrs. Benedict Arnold's infamy, she proclaims, "Peggy was in it from the beginning." Roberts also has an ear for juicy quotes; she recounts Aaron Burr's mother, Esther, bemoaning that when talking to a man with "mean thoughts of women," her tongue "hangs pretty loose," so she "talked him quite silent."
In addition to telling wonderful stories, Roberts also presents a very readable, serviceable account of politics-male and female-in early America. If only our standard history textbooks were written with such flair! 7 illus. not seen by PW. Agent, Bob Barnett. (c) Copyright PWxyz, LLC. All rights reserved
Booklist Review
Political correspondent Roberts has deep roots in American political families--her mother was a U.S. congresswoman from Louisiana, and an ancestor, William Claiborne, was a U.S. congressman from Tennessee in the 1790s. Here she offers a look at the women--mostly wives and mothers--who supported the men credited with creating the U.S. Lamenting the dearth of history about these women, Roberts primarily draws on letters and diaries to document their significant contributions. Among her subjects is Deborah Read Franklin, who was virtually abandoned for 16 of the last 17 years of her marriage to Benjamin, who held a post in England and left her to manage the home and businesses. She was forced to protect their home from a mob angry at her husband's position on the Stamp Act. Also among those profiled are Martha Washington, who used her considerable wealth to help finance the revolution; Abigail Adams, whose famous remark to her husband, John, to remember the ladies was thought to be a reference to women's rights; and Phyllis Wheatley, a former slave who earned the admiration of George Washington with her poetry.
Roberts offers a much-needed look at the unheralded sacrifices and heroism of colonial women. --Vanessa Bush Copyright 2004 Booklist Library Journal Review Covering the 1770s through the 1790s, this group biography focuses on the links among women such as Abigail Adams and Martha Washington as well as a wide variety of lesser-known historical figures like the lively Kitty Green. With amusing asides and an engaging, conversational tone, Roberts brings the bravery and sacrifice of these amazing women to sparkling life. (c) Copyright 2010. Library Journals LLC, a wholly owned subsidiary of Media Source, Inc. No redistribution permitted.
School Library Journal Review
Adult/High School- Focusing mainly on the wives, daughters, sisters, and mothers of the Founding Fathers, this lively and engaging title chronicles the adventures and contributions of numerous women of the era between 1740 and 1797. Roberts includes a surprising amount of original writings, but uses modern language and spellings to enable readers to enjoy fully the wit and wisdom of these remarkable individuals. While their men were away serving as soldiers, statesmen, or ambassadors, the women's lives were fraught with difficulty and danger. They managed property, and raised their children and often those of deceased relatives, while trying to make their own contributions to the cause of liberty. They acted as spies, coordinated boycotts, and raised funds for the army. Through it all, they corresponded with their husbands, friends, and even like-minded women in England.
Readers will enjoy seeing how many of these individuals showed their mettle when they were still in their teens. Black-and-white photographs of portraits, a small selection of recipes, and a cast of characters are included.-Kathy Tewell, Chantilly Regional Library, VA (c) Copyright 2010. Library Journals LLC, a wholly owned subsidiary of Media Source, Inc. No redistribution permitted.