Please call your local branch to reserve this title for your club.
Bag Contents: 10 copies
Available on Hoopla: eBook and audiobook
Summary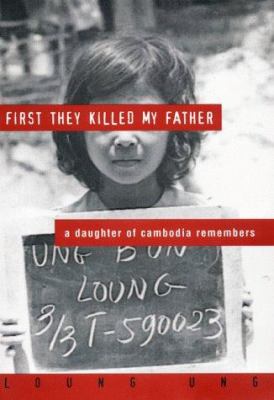 From a childhood survivor of the Camdodian genocide under the regime of Pol Pot, this is a riveting narrative of war crimes and desperate actions, the unnerving strength of a small girl and her family, and their triumph of spirit.
One of seven children of a high-ranking government official, Loung Ung lived a privileged life in the Cambodian capital of Phnom Penh until the age of five. Then, in April 1975, Pol Pot's Khmer Rouge army stormed into the city, forcing Ung's family to flee and, eventually, to disperse. Loung was trained as a child soldier in a work camp for orphans, her siblings were sent to labor camps, and those who survived the horrors would not be reunited until the Khmer Rouge was destroyed.
Harrowing yet hopeful, Loung's powerful story is an unforgettable account of a family shaken and shattered, yet miraculously sustained by courage and love in the face of unspeakable brutality.
Booklist Online
Ung was only five when the Khmer Rouge began their murderous siege of Cambodia in 1975. By its end in 1979, approximately two million Cambodians had died from torture, execution, or starvation. Ung begins her narration as the family was sent into exile, vividly describing their struggle for survival in a world gone mad. Only half of her family will survive. Few families were left whole when the campaign was over. What sets Ung apart is that her childlike innocence, so evident early in her story, gives way to a crude but certain instinct for survival. As a child laborer in a garden she witnesses the daily burials of whole families. "I see them dig a hole underneath the hut of the dead family. . . . There were times when such scenes terrified me, but I have seen the ritual performed so many times that I feel nothing." At one point, she looks hopefully at a beautiful sunset. "Maybe there are gods living up there after all. When are they going to come down and bring peace to our land?" But then her father is taken away, never to be seen again. Unlike other major horrors of this century, there has been little literature from the Cambodian tragedy. Perhaps Ung's memoir should serve as a reminder that some history is best not left just to historians but to those left standing when the terror ends. (See also Chandler, p.741.) - Marlene Chamberlain From Booklist, Copyright © American Library Association. Used with permission.
Publishers Weekly
In 1975, Ung, now the national spokesperson for the Campaign for a Landmine-Free World, was the five-year-old child of a large, affluent family living in Phnom Penh, the cosmopolitan Cambodian capital. As extraordinarily well-educated Chinese-Cambodians, with the father a government agent, her family was in great danger when the Khmer Rouge took over the country and throughout Pol Pot's barbaric regime. Her parents' strength and her father's knowledge of Khmer Rouge ideology enabled the family to survive together for a while, posing as illiterate peasants, moving first between villages, and then from one work camp to another. The father was honest with the children, explaining dangers and how to avoid them, and this, along with clear sight, intelligence and the pragmatism of a young child, helped Ung to survive the war. Her restrained, unsentimental account of the four years she spent surviving the regime before escaping with a brother to Thailand and eventually the United States is astonishing--not just because of the tragedies, but also because of the immense love for her family that Ung holds onto, no matter how she is brutalized. She describes the physical devastation she is surrounded by but always returns to her memories and hopes for those she loves. Her joyful memories of life in Phnom Penh are close even as she is being trained as a child soldier, and as, one after another, both parents and two of her six siblings are murdered in the camps. Skillfully constructed, this account also stands as an eyewitness history of the period, because as a child Ung was so aware of her surroundings, and because as an adult writer she adds details to clarify the family's moves and separations. Twenty-five years after the rise of the Khmer Rouge, this powerful account is a triumph. 8 pages b&w photos. (Feb.) (c) Copyright PWxyz, LLC. All rights reserved
School Library Journal
YA-Ung was a headstrong, clever child who was a delight to her father, a high-ranking government official in Phnom Penh. She was only five when the Khmer Rouge stormed the city and her family was forced to flee. They sought refuge in various camps, hiding their wealth and education, always on the move and ever fearful of being betrayed. After 20 months, Ung's father was taken away, never to be seen again. Her story of starvation, forced labor, beatings, attempted rape, separations, and the deaths of her family members is one of horror and brutality. The first-person account of Cambodia under the reign of Pol Pot will be read not only for research papers but also as a tribute to a human spirit that never gave up. YAs will applaud Ung's courage and strength.-Katherine Fitch, Rachel Carson Middle School, Fairfax, VA (c) Copyright 2010. Library Journals LLC, a wholly owned subsidiary of Media Source, Inc. No redistribution permitted.