Please call your local branch to reserve this title for your club.
Bag Contents: 10 copies + 1 large print + 1 audiobook
Available on Hoopla: audiobook
Summary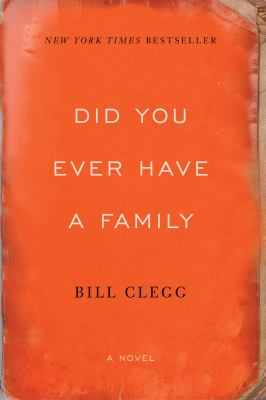 The stunning debut novel from bestselling author Bill Clegg is a magnificently powerful story about a circle of people who find solace in the least likely of places as they cope with a horrific tragedy.
On the eve of her daughter's wedding, June Reid's life is completely devastated when a shocking disaster takes the lives of her daughter, her daughter's fiancé, her ex-husband, and her boyfriend, Luke--her entire family, all gone in a moment. And June is the only survivor.
Alone and directionless, June drives across the country, away from her small Connecticut town. In her wake, a community emerges, weaving a beautiful and surprising web of connections through shared heartbreak.
From the couple running a motel on the Pacific Ocean where June eventually settles into a quiet half-life, to the wedding's caterer whose bill has been forgotten, to Luke's mother, the shattered outcast of the town--everyone touched by the tragedy is changed as truths about their near and far histories finally come to light.
Elegant and heartrending, and one of the most accomplished fiction debuts of the year, Did You Ever Have a Family is an absorbing, unforgettable tale that reveals humanity at its best through forgiveness and hope. At its core is a celebration of family--the ones we are born with and the ones we create.
Booklist Review
*Starred Review* Literary agent Clegg, who has penned two acclaimed memoirs, here turns to fiction with a deeply haunting story. June Reid loses her entire family in a house fire: her daughter, who was about to be married; her daughter's fiancé; her ex-husband; and her much-younger boyfriend, Luke. Utterly bereft, June leaves her Connecticut hometown and drives to the Moonstone motel in the Pacific Northwest, where she stays for months, barely leaving her room. The narrative also incorporates viewpoints from others affected by the tragedy, however tangentially, including the wedding caterer and the florist; Luke's mother, Lydia, who bears the brunt of the small-town gossip in the wake of the fire, especially from small-minded people intent on blaming her son for the disaster; Silas, a teenage pothead who knows more about the fire than he is willing to admit; and the proprietor of the Moonstone, who senses that June is the most alone person I've ever met, half in the world and half out of it. Clegg is both delicately lyrical and emotionally direct in this masterful novel, which strives to show how people make bearable what is unbearable, offering consolation in small but meaningful gestures. Both ineffably sad and deeply inspiring, this mesmerizing novel makes for a powerful debut.--Wilkinson, Joanne Copyright 2015 Booklist
Publisher's Weekly Review
In this sorrowful and deeply probing debut novel, literary agent and memoirist Clegg (Portrait of an Addict as a Young Man) delivers a story of loss and its grueling aftermath. The story opens with an unimaginable tragedy: a Connecticut house is consumed by fire in the wee hours before a wedding. The bride's mother, June, is the only survivor. Everyone else-Lolly, June's daughter, with whom she had a strained relationship; June's womanizing ex-husband, Adam; June's ex-con boyfriend Luke, 20 years her junior; and Lolly's fiancé, Will-all die in the blaze. But where was June when the explosion occurred? Clegg pieces the mystery together through the voices of his characters. There's Luke's lonely, scandal-courting mother, Lydia, who shoulders secrets about her son; 15-year-old Silas, a stoner who was the last to see Luke, with June, the night before he died. And there's Rebecca, Kelly, and Cissy-caretakers of the Moonstone motel in Moclips, Wash., where June holes up for nine months after the fire and wastes away. The conclusion of the family's narrative is foregone: due to the fire, everyone ends up dead or alone. But it's Clegg's deft handling of all the parsed details-missed opportunities, harbored regrets, and unspoken good intentions-that make the journey toward redemption and forgiveness so memorable. (Sept.) © Copyright PWxyz, LLC. All rights reserved.
Library Journal Review
In small-town Connecticut, on the eve of her daughter's wedding, June Reid's house literarily explodes, killing ex-husband Adam, lover Luke, daughter Lolly, and -Lolly's fiancé, Will. What follows is a propulsive but tightly crafted narrative that moves back and forth in time and from character to character as Clegg builds out his opening scene to take in those sometimes surprisingly affected. The breakup of June's marriage, the troubled relationship between June and her daughter, the tensions between June and Luke, the small-town tragedy of Luke's mother, the complicated backstory of the lesbian lovers who run the West Coast hotel where June fetches up-all these and more reveal the fine-grained sorrows of the human condition, rendered in polished, quietly captivating prose. As the stories emerge, so do their connections-and the idea of connection itself. "Did you ever have a family," says June flatly at a moment of crisis before the blast, capturing the weight family carries in our lives, and the consequence of every relation, every action, resonates throughout the text. VERDICT Readers may come to this debut novel because of agent/memoirist Clegg's reputation, but they'll stay for the stellar language and storytelling. Highly recommended. [See Prepub Alert, 3/9/15.]-Barbara Hoffert, Library Journal © Copyright 2015. Library Journals LLC, a wholly owned subsidiary of Media Source, Inc. No redistribution permitted..