Please call your local branch to reserve this title for your club.
Bag Contents: 13 copies
Available on Hoopla:  summaries
Summary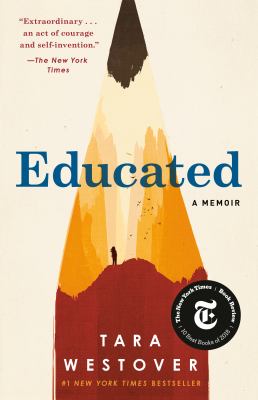 Tara Westover was seventeen the first time she set foot in a classroom. Born to survivalists in the mountains of Idaho, she prepared for the end of the world by stockpiling home-canned peaches and sleeping with her "head-for-the-hills bag." In the summer she stewed herbs for her mother, a midwife and healer, and in the winter she salvaged in her father's junkyard. The family was so isolated from mainstream society that there was no one to ensure the children received an education, and no one to intervene when one of Tara's older brothers became violent.
As a way out, Tara began to educate herself, learning enough mathematics and grammar to be admitted to Brigham Young University. Her quest for knowledge would transform her, taking her over oceans and across continents, to Harvard and to Cambridge. Only then would she wonder if she'd traveled too far, if there was still a way home. With the acute insight that distinguishes all great writers, Tara Westover has crafted a universal coming-of-age story that gets to the heart of what an education offers: the perspective to see one's life through new eyes, and the will to change it. -Provided by publisher.
Booklist Online
To the Westovers, public education was the quickest way to put yourself on the wrong path. By the time the author, the youngest Westover, had come along, her devout Mormon parents had pulled all of their seven children out of school, preferring to teach just the essentials: a little bit of reading, a lot of scripture, and the importance of family and a hard day's work. Westover's debut memoir details how her isolated upbringing in the mountains of Idaho led to an unexpected outcome: Cambridge, Harvard, and a PhD. Though Westover's entrance into academia is remarkable, at its heart, her memoir is a family history: not just a tale of overcoming but an uncertain elegy to the life that she ultimately rejected. Westover manages both tenderness and a savage honesty that spares no one, not even herself: nowhere is this more powerful than in her relationship with her brother Shawn, her abuser and closest friend. In its keen exploration of family, history, and the narratives we create for ourselves, Educated becomes more than just a success story.--Winterroth, Amanda Copyright 2018 Booklist
Kirkus Reviews
A recent Cambridge University doctorate debuts with a wrenching account of her childhood and youth in a strict Mormon family in a remote region of Idaho.It's difficult to imagine a young woman who, in her teens, hadn't heard of the World Trade Center, the Holocaust, and virtually everything having to do with arts and popular culture. But so it was, as Westover chronicles here in fairly chronological fashion. In some ways, the author's father was a classic anti-government paranoiacwhen Y2K failed to bring the end of the world, as he'd predicted, he was briefly humbled. Her mother, though supportive at times, remained true to her beliefs about the subordinate roles of women. One brother was horrendously abusive to the author and a sister, but the parents didn't do much about it. Westover didn't go to public school and never received professional medical care or vaccinations. She worked in a junkyard with her father, whose fortunes rose and fell and rose again when his wife struck it rich selling homeopathic remedies. She remained profoundly ignorant about most things, but she liked to read. A brother went to Brigham Young University, and the author eventually did, too. Then, with the encouragement of professors, she ended up at Cambridge and Harvard, where she excelledthough she includes a stark account of her near breakdown while working on her doctoral dissertation. We learn about a third of the way through the book that she kept journals, but she is a bit vague about a few things. How, for example, did her family pay for the professional medical treatment of severe injuries that several of them experienced? Andwith some justificationshe is quick to praise herself and to quote the praise of others.An astonishing account of deprivation, confusion, survival, and success. Copyright Kirkus Reviews, used with permission.
Library Journal Review
As the youngest of seven children born to fundamentalist parents in remote Idaho, seven-year-old Westover realized it was unusual that her siblings didn't go to school. Her father's distrust of government, education, and doctors meant Westover didn't have a birth certificate, medical records, or school records. Neglect and abuse were common, especially at the fists of one of her older brothers. Encouraged by another brother who got out, Westover begins the process of getting "educated" when she entered her first-ever classroom at 17 as a freshman at Brigham Young University. -Basic history-the Holocaust, the civil rights movement-was yet unknown to her, but she progressed to Cambridge, Harvard, and back to Cambridge for a PhD in history. Narrator Julia Whelan embodies Westover's steely almost detached resolve, maintaining modulated control even amid desperate, dangerous situations-broken bones, third-degree burns, gruesome accidents. She reserves her growls and bellows for the Westover men determined-yet who fail-to keep their women down.
VERDICT A Mormon metamorphosis memoir is such a rarity that readers will undoubtedly be drawn to getting Educated. ["Explicit descriptions of abuse can make for difficult reading, but...Westover's writing is lyrical and literary in style": LJ 2/1/18 review of the Random hc.]-Terry Hong, Smithsonian BookDragon, Washington, DC © Copyright 2018. Library Journals LLC, a wholly owned subsidiary of Media Source, Inc. No redistribution permitted.