Please call your local branch to reserve this title for your club.
Bag Contents: 10 copies
Available on Hoopla: Bookclub conversation starter
Summary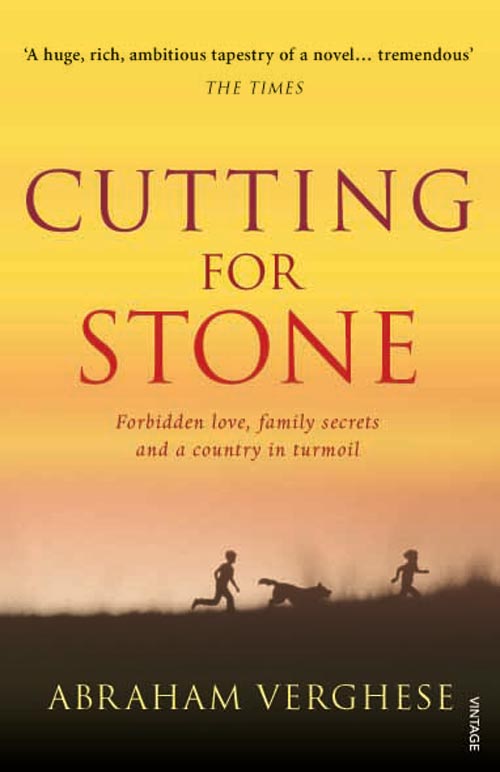 Marion and Shiva Stone are twin brothers born of a secret union between a beautiful Indian nun and a brash British surgeon. Orphaned by their mother's death and their father's disappearance, bound together by a preternatural connection and a shared fascination with medicine, the twins come of age as Ethiopia hovers on the brink of revolution. Moving from Addis Ababa to New York City and back again, Cutting for Stone is an unforgettable story of love and betrayal, medicine and ordinary miracles--and two brothers whose fates are forever intertwined.
Publisher's Weekly Review
Lauded for his sensitive memoir (My Own Country) about his time as a doctor in eastern Tennessee at the onset of the AIDS epidemic in the '80s, Verghese turns his formidable talents to fiction, mining his own life and experiences in a magnificent, sweeping novel that moves from India to Ethiopia to an inner-city hospital in New York City over decades and generations. Sister Mary Joseph Praise, a devout young nun, leaves the south Indian state of Kerala in 1947 for a missionary post in Yemen. During the arduous sea voyage, she saves the life of an English doctor bound for Ethiopia, Thomas Stone, who becomes a key player in her destiny when they meet up again at Missing Hospital in Addis Ababa.
Seven years later, Sister Praise dies birthing twin boys: Shiva and Marion, the latter narrating his own and his brother's long, dramatic, biblical story set against the backdrop of political turmoil in Ethiopia, the life of the hospital compound in which they grow up and the love story of their adopted parents, both doctors at Missing. The boys become doctors as well and Verghese's weaving of the practice of medicine into the narrative is fascinating even as the story bobs and weaves with the power and coincidences of the best 19th-century novel. (Feb.) (c) Copyright PWxyz, LLC. All rights reserved
Library Journal Review
Focusing on the world of medicine, this epic first novel by well-known doctor/author Verghese (My Own Country) follows a man on a mythic quest to find his father. It begins with the dramatic birth of twins slightly joined at the skull, their father serving as surgeon and their mother dying on the table. The horrorstruck father vanishes, and the now separated boys are raised by two Indian doctors living on the grounds of a mission hospital in early 1950s Ethiopia.
The boys both gravitate toward medical practice, with Marion the more studious one and Shiva a moody genius and loner. Also living on the hospital grounds is Genet, daughter of one of the maids, who grows up to be a beautiful and mysterious young woman and a source of ruinous competition between the brothers. After Marion is forced to flee the country for political reasons, he begins his medical residency at a poor hospital in New York City, and the past catches up with him.
The medical background is fascinating as the author delves into fairly technical areas of human anatomy and surgical procedure. This novel succeeds on many levels and is recommended for all collections. [See Prepub Alert, LJ 10/1/08.]-Jim Coan, SUNY Coll. at Oneonta (c) Copyright 2010. Library Journals LLC, a wholly owned subsidiary of Media Source, Inc. No redistribution permitted.