Please call your local branch to reserve this title for your club.
Bag Contents: 9 copies
Available on Hoopla: eBook
Summary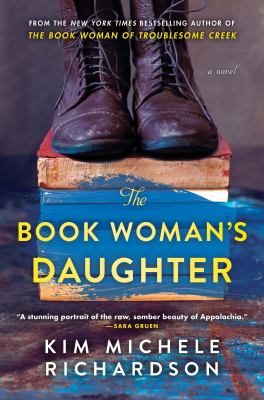 In the ruggedness of the beautiful Kentucky mountains, Honey Lovett has always known that the old ways can make a hard life harder. As the daughter of the famed blue-skinned, Troublesome Creek packhorse librarian, Honey and her family have been hiding from the law all her life. But when her mother and father are imprisoned, Honey realizes she must fight to stay free, or risk being sent away for good. Picking up her mother's old packhorse library route, Honey begins to deliver books to the remote hollers of Appalachia. Honey is looking to prove that she doesn't need anyone telling her how to survive. But the route can be treacherous, and some folks aren't as keen to let a woman pave her own way. If Honey wants to bring the freedom books provide to the families who need it most, she's going to have to fight for her place, and along the way, learn that the extraordinary women who run the hills and hollers can make all the difference in the world. -  Provided by publisher.
Booklist Online
After her parents are jailed for violating Kentucky's miscegenation laws in 1953, Honey, only 16, is on her own. Though only her hands are affected, she shares a rare genetic condition with her mother that renders her skin blue. Honey is not really alone. She makes fast friends with Pearl, the fire lookout, and she takes a job as a packhorse librarian, delivering books to the virtually impenetrable hollers, carrying on her mother's tradition of being a book woman. Richardson's follow-up to The Book Woman of Troublesome Creek (2019) shows how little has changed in the rural mountains of Kentucky: poverty runs rampant, coal mining is dangerous work, and people need the escape that reading brings them. It is also a man's world, but steel-spined women—Honey and Pearl, a woman coal miner, a young girl with a pet rooster—are fighting for their place. The Book Woman's Daughter combines themes of sisterhood and justice with vivid depictions of the Kentucky landscape, making it a good choice for book groups and readers of historical women's fiction. From Booklist, Copyright © American Library Association. Used with permission
Publishers Weekly
In this earnest follow-up to The Book Woman of Troublesome Creek, Richardson focuses on 16-year-old Honey Lovett, the daughter of Cussy Mary Lovett, the woman with blue skin whose work for the Pack Horse Library during the 1930s featured in the first installment. Cussy married Jackson Lovett, a white man, and Honey, who inherited an easily concealable version of Cussy's methemoglobinemia, fends for herself now that her parents have been imprisoned for miscegenation. It's 1953, and sympathetic friends help keep Honey out of the Kentucky House of Reform, which is bent on holding her until she's 21. As an effort to achieve her independence, she takes up the traveling librarian job once held by her mother, even riding the same faithful mule, Junia. She also convinces lawyer Bob Morgan to represent her in a bid for legal emancipation, culminating in a climactic courtroom scene complete with damaging testimony from a racist social worker and a misogynist sheriff. Though the story of Honey's struggle for freedom is a bit formulaic, Richardson excels in her descriptions of the people and places of rural Kentucky. Fans will be delighted to find Cussy's daughter is just as plucky as her mother. Agent: Stacy Teta, Writers House.