Please call your local branch to reserve this title for your club.
Bag Contents: 8 copies +  2 large prints
Summary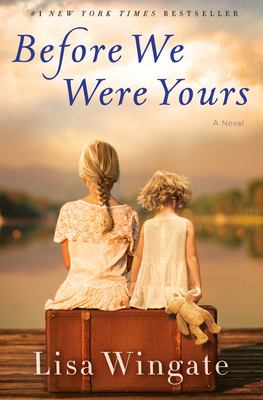 Two families, generations apart, are forever changed by a heartbreaking injustice in this poignant novel, inspired by a true story, for readers of Orphan Train and The Nightingale. Memphis, 1939. Twelve-year-old Rill Foss and her four younger siblings live a magical life aboard their family's Mississippi River shantyboat. But when their father must rush their mother to the hospital one stormy night, Rill is left in charge--until strangers arrive in force. Wrenched from all that is familiar and thrown into a Tennessee Children's Home Society orphanage, the Foss children are assured that they will soon be returned to their parents--but they quickly realize the dark truth. At the mercy of the facility's cruel director, Rill fights to keep her sisters and brother together in a world of danger and uncertainty.
Aiken, South Carolina, present day. Born into wealth and privilege, Avery Stafford seems to have it all: a successful career as a federal prosecutor, a handsome fiance, and a lavish wedding on the horizon. But when Avery returns home to help her father weather a health crisis,a chance encounter leaves her with uncomfortable questions and compels her to take a journey through her family's long-hidden history, on a path that will ultimately lead eitherto devastation or to redemption.
Based on one of America's most notorious real-life scandals--in which Georgia Tann, director of a Memphis-based adoption organization, kidnapped and sold poor children to wealthy families all over the country--Lisa Wingate's riveting, wrenching, and ultimately uplifting tale reminds us how, even though the paths we take can lead to many places, the heart never forgets where we belong. - Provided by publisher.
Booklist Online
Newly engaged Avery Stafford leaves her job as a federal prosecutor in Washington, D.C., to go back home to South Carolina, where she is being groomed to succeed her ailing father, a U.S. senator. At a meet-and-greet at a nursing home, she encounters May, a woman who seems to have some link with Avery's Grandma Judy, now suffering from dementia. The reader learns early on that May was once Rill Foss, one of five siblings snatched from their shanty home on the Mississippi and taken to the Memphis branch of the Tennessee Children's Home Society. The society seems too Dickensian to be true, except that it was, and its black-market adoption practices caused a stir in the mid-twentieth century. Rill's harrowing account of what befell the Foss children and Avery's piecing together (with the help of a possible new love interest) of how Rill and Grandma Judy's stories converge are skillfully blended. Wingate (The Sea Keeper's Daughters, 2015) writes with flair, and her distinctly drawn characters and adept use of the adoption scandal will keep readers turning the pages.--Quinn, Mary Ellen Copyright 2017 Booklist
Kirkus Reviews
Avery Stafford, a lawyer, descendant of two prominent Southern families and daughter of a distinguished senator, discovers a family secret that alters her perspective on heritage.Wingate (Sisters, 2016, etc.) shifts the story in her latest novel between present and past as Avery uncovers evidence that her Grandma Judy was a victim of the Tennessee Children's Home Society and is related to a woman Avery and her father meet when he visits a nursing home. Although Avery is living at home to help her parents through her father's cancer treatment, she is also being groomed for her own political career. Readers learn that investigating her family's past is not part of Avery's scripted existence, but Wingate's attempts to make her seem torn about this are never fully developed, and descriptions of her chemistry with a man she meets as she's searching are also unconvincing. Sections describing the real-life orphanage director Georgia Tann, who stole poor children, mistreated them, and placed them for adoption with wealthy clientsincluding Joan Crawford and June Allysonare more vivid, as are passages about Grandma Judy and her siblings. Wingate's fans and readers who enjoy family dramas will find enough to entertain them, and book clubs may enjoy dissecting the relationship and historical issues in the book. Wingate sheds light on a shameful true story of child exploitation but is less successful in engaging readers in her fictional characters' lives. Copyright Kirkus Reviews, used with permission.
Library Journal Review
Christy and Carol Award-winning -Wingate (The Story Keeper; The Sea Glass Sisters) weaves a complex tale about two families, two generations apart, linked by an injustice, based on a notorious true-life scandal. The story begins in 1939 when Rill Foss and her four younger siblings, who had been happily living on their parents' shantyboat on the Mississippi, are seized by strangers and taken to a Memphis orphanage. In present-day South Carolina, the Staffords, a wealthy and prestigious family deeply immersed in the political realm, takes center stage when Avery returns home to help her father recuperate from a health crisis. There she experiences a chance encounter with a resident at the nursing home, which leads to her investigating her family's history. As secrets are exposed, the question is raised: Are some things better left hidden in the past, or is it best to have everything out in the open? VERDICT Fans of Ann H. Gabhart and Tracie Peterson will be drawn to this quietly strong novel. The thought-provoking subject matter makes this at times a difficult read; although not graphic in content, molestation and abuse are two of the tough topics handled.--Shondra Brown, Wakarusa P.L., IN © Copyright 2017. Library Journals LLC, a wholly owned subsidiary of Media Source, Inc. No redistribution permitted.