Please call your local branch to reserve this title for your club.
Bag Contents: 10 copies
Available on Hoopla: Bookclub conversation starter and trivia
Summary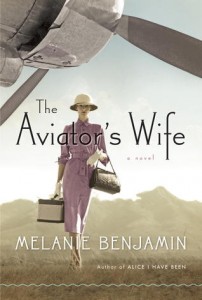 In the spirit of "Loving Frank" and "The Paris Wife, " acclaimed novelist Melanie Benjamin pulls back the curtain on the marriage of one of America's most extraordinary couples: Charles Lindbergh and Anne Morrow Lindbergh. "The history is] exhilarating.
For much of her life, Anne Morrow, the shy daughter of the U.S. ambassador to Mexico, has stood in the shadows of those around her, including her millionaire father and vibrant older sister, who often steals the spotlight. Then Anne, a college senior with hidden literary aspirations, travels to Mexico City to spend Christmas with her family. There she meets Colonel Charles Lindbergh, fresh off his celebrated 1927 solo flight across the Atlantic. Enthralled by Charles's assurance and fame, Anne is certain the aviator has scarcely noticed her. But she is wrong. Charles sees in Anne a kindred spirit, a fellow adventurer, and her world will be changed forever. The two marry in a headline-making wedding. Hounded by adoring crowds and hunted by an insatiable press, Charles shields himself and his new bride from prying eyes, leaving Anne to feel her life falling back into the shadows. In the years that follow, despite her own major achievements--she becomes the first licensed female glider pilot in the United States--Anne is viewed merely as the aviator's wife. The fairy-tale life she once longed for will bring heartbreak and hardships, ultimately pushing her to reconcile her need for love and her desire for independence, and to embrace, at last, life's infinite possibilities for change and happiness. Drawing on the rich history of the twentieth century--from the late twenties to the mid-sixties--and featuring cameos from such notable characters as Joseph Kennedy and Amelia Earhart, "The Aviator's Wife" is a vividly imagined novel of a complicated marriage--revealing both its dizzying highs and its devastating lows. With stunning power and grace, Melanie Benjamin provides new insight into what made this remarkable relationship endure.
Booklist Review
*Starred Review* Benjamin, author of the highly acclaimed Alice I Have Been (2010) and The Autobiography of Mrs. Tom Thumb (2011), delivers another stellar historical novel based on the experiences of an extraordinary woman. In this outing, she spotlights Anne Morrow Lindbergh, wife of wildly famous Charles Lindbergh and pioneering aviatrix and accomplished author in her own right. Though their courtship is the stuff of every girl's romantic fantasy, time and reality combine to reveal a much different story. Plagued by tragedy and often stifled by her domineering husband, she eventually manages to carve out a quasi-independent life and career for herself. Fictional biography at its finest; serious readers may want to pair this with the recently published Against Wind and Tide, the sixth and final volume of Anne Morrow Lindbergh's copious letters and journal entries.--Flanagan, Margaret Copyright 2010 Booklist
Publisher's Weekly Review
Talented historical novelist Benjamin has a knack for picking intriguing, if somewhat obscure, women in history and making them utterly unforgettable. Told from the perspective of Anne Lindbergh, wife of the famed aviator Charles, her third novel (after TK) doesn't disappoint. When Anne first meets Colonel Charles Lindbergh in 1927 he's a hero, world-famous after completing his cross-Atlantic flight; Anne is a simple college girl living in the shadow of her radiant older sister Elisabeth. To everyone's surprise, then, it's Anne who catches Charles's eye. And so begins their enthralling journey together. Intimately depicting their marriage of duty and partnership in the air, as well as the horrific kidnapping and murder of first child Charles Jr., this is less love story than voyeuristic glimpse at one of the 20th century's most captivating men through the eyes of the woman who knew him best. In true Benjamin style, it's Anne who captures us all in this exquisite fictional take on an iconic marriage. Agent: Melanie Jackson, the Melanie Jackson Agency. (Feb.) © Copyright PWxyz, LLC. All rights reserved.
Library Journal Review
Benjamin (Alice I Have Been; The Autobiography of Mrs. Tom Thumb) examines the life of a woman whose story has frequently been overshadowed by that of a more famous man. A starstruck Anne Morrow is thrilled when Charles Lindbergh proposes marriage shortly after his famous transatlantic flight. Initially overjoyed to serve as the dashing young aviator's "crew," she soon discovers a dark side to her husband's ambitions and yearns to break free of his rigid expectations for her. Benjamin's primary focus is on Anne's evolution from submissive helpmate into the author of the feminist classic Gift from the Sea. Her extremely unsympathetic portrayal of Charles may startle readers expecting more of a love story. Anne's life provides plenty of material to hold interest, including on her days as a pioneering aviatrix, her heartbreak following the kidnapping and murder of her infant son, and the controversy surrounding Charles's unpopular political views during the buildup to World War II. VERDICT Well-researched and paced, this novel will certainly spark readers' interest in learning more about this famous couple.-Mara Bandy, Champaign P.L., IL (c) Copyright 2012. Library Journals LLC, a wholly owned subsidiary of Media Source, Inc. No redistribution permitted.