Please call your local branch to reserve this title for your club.
Bag contents: 10 copies
Summary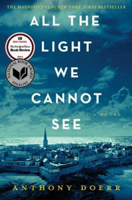 Marie-Laure lives with her father in Paris near the Museum of Natural History where he works. When she is six, Marie-Laure goes blind. When she is twelve, the Nazis occupy Paris, and father and daughter flee to the walled citadel of Saint-Malo, where Marie-Laure's reclusive great uncle lives in a tall house by the sea. They carry with them perhaps the museum's most valuable and dangerous jewel.
In a German mining town, an orphan named Werner grows up with his younger sister, enchanted by a crude radio they find. He becomes expert at fixing these new instruments, a talent that wins him a place at a brutal academy for Hitler Youth, then a special assignment to track the Resistance. Increasingly aware of the human cost of his intelligence, Werner travels through the heart of the war and, finally, into Saint-Malo, where his story and Marie-Laure's converge.
Anthony Doerr's "stunning sense of physical detail and gorgeous metaphors" ( San Francisco Chronicle) are dazzling. Deftly interweaving the lives of Marie-Laure and Werner, he illuminates the ways, against all odds, people try to be good to one another. Ten years in the writing, All the Light We Cannot See is a "beautiful, daring, heartbreaking, oddly joyous novel" ( The Seattle Times ) from a writer "whose sentences never fail to thrill" ( Los Angeles Times ).
Booklist Review
*Starred Review* A novel to live in, learn from, and feel bereft over when the last page is turned, Doerr's magnificently drawn story seems at once spacious and tightly composed. It rests, historically, during the occupation of France during WWII, but brief chapters told in alternating voices give the overall and long ­narrative a swift movement through time and events. We have two main characters, each one on opposite sides in the conflagration that is destroying Europe.
Marie-Louise is a sightless girl who lived with her father in Paris before the occupation; he was a master locksmith for the Museum of Natural History. When German forces necessitate abandonment of the city, Marie-Louise's father, taking with him the museum's greatest treasure, removes himself and his daughter and eventually arrives at his uncle's house in the coastal city of Saint-Malo. Young German soldier Werner is sent to Saint-Malo to track Resistance activity there, and eventually, and inevitably, Marie-Louise's and Werner's paths cross.
It is through their individual and intertwined tales that Doerr masterfully and knowledgeably re-creates the deprived civilian conditions of war-torn France and the strictly controlled lives of the military occupiers. --Hooper, Brad Copyright 2014 Booklist
Publisher's Weekly Review
In 1944, the U.S. Air Force bombed the Nazi-occupied French coastal town of St. Malo. Doerr (Memory Wall) starts his story just before the bombing, then goes back to 1934 to describe two childhoods: those of Werner and Marie-Laure. We meet Werner as a tow-headed German orphan whose math skills earn him a place in an elite Nazi training school-saving him from a life in the mines, but forcing him to continually choose between opportunity and morality. Marie-Laure is blind and grows up in Paris, where her father is a locksmith for the Museum of Natural History, until the fall of Paris forces them to St. Malo, the home of Marie-Laure's eccentric great-uncle, who, along with his longtime housekeeper, joins the Resistance.
Doerr throws in a possibly cursed sapphire and the Nazi gemologist searching for it, and weaves in radio, German propaganda, coded partisan messages, scientific facts, and Jules Verne. Eventually, the bombs fall, and the characters' paths converge, before diverging in the long aftermath that is the rest of the 20th century.
If a book's success can be measured by its ability to move readers and the number of memorable characters it has, Story Prize-winner Doerr's novel triumphs on both counts. Along the way, he convinces readers that new stories can still be told about this well-trod period, and that war-despite its desperation, cruelty, and harrowing moral choices-cannot negate the pleasures of the world. (May) (c) Copyright PWxyz, LLC. All rights reserved.
Library Journal Review
Shifting among multiple viewpoints but focusing mostly on blind French teenager Marie-Laure and Werner, a brilliant German soldier just a few years older than she, this novel has the physical and emotional heft of a masterpiece. The main protagonists are brave, sensitive, and intellectually curious, and in another time they might have been a couple. But they are on opposite sides of the horrors of World War II, and their fates ultimately collide in connection with the radio-a means of resistance for the Allies and just one more avenue of annihilation for the Nazis.
Set mostly in the final year of the war but moving back to the 1930s and forward to the present, the novel presents two characters so interesting and sympathetic that readers will keep turning the pages hoping for an impossibly happy ending. Marie-Laure and Werner both suffer crushing losses and struggle to survive with dignity amid Hitler's swath of cruelty and destruction.
VERDICT -Doerr (The Shell Collector) has received multiple honors for his fiction, including four O. Henry Prizes and the New York Public Library's Young Lions Award. His latest is highly recommended for fans of Michael Ondaatje's similarly haunting The English Patient.-Evelyn Beck, Piedmont Technical Coll., Greenwood, SC (c) Copyright 2014. Library Journals LLC, a wholly owned subsidiary of Media Source, Inc. No redistribution permitted.