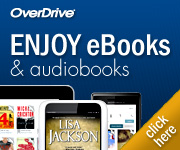 Log in and Download eBooks and eAudiobooks 24/7
PLEASE NOTE: Your Atlantic County Library System has purchased additional e-Books for you. Remember to login to your OverDrive account BEFORE you begin searching to see all our titles. You must enter your full, 14 digit library card number with NO spaces and your library account PIN.
---
New to audiobooks and eBooks? Follow the steps below:
Check to see if your device is compatible for audiobooks and/or eBooks at the OverDrive Device Resource Center and note which file types it will accept (MP3, WMA, EPUB, PDF, KINDLE).
To open those file types with your device, you must have an OverDrive application installed on your computer, smartphone, tablet or eReader. Applications vary by device and you may need multiple applications to enable and transfer the content.
Go to the South Jersey Audiobook and eBook Download Center from your computer or handheld device and login to My Digital Account with your library card number and PIN.
Browse for audiobooks and eBooks, checkout a title, pick a format, download and and enjoy reading!
Visit the Getting Started and OverDrive Help pages for specific directions or watch informational videos pertaining to your device.

---

Get an
OverDrive App
for your device.