TumbleBook Library offers eBooks, read-alongs, videos, audiobooks and games which help pre-school and kindergarten level children learn all while discovering the joys of reading.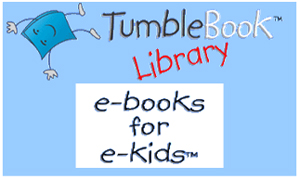 Features include:
Online eBooks with adjustable text sizes, full narration, and a read-along function which highlights text as it is read or can be switched to manual so readers can read at their own pace.
Colorful videos from National Geographic.
Games and puzzles to make reading and learning fun and interactive.
Mobile device-friendly interface.
Helpful lesson plans and quizzes are available for users, teachers and parents.
TumbleBook Library is a great tool for parents and teachers to get kids to use the computer educationally as well as being a perfect choice for reluctant readers.
Please note: As of Friday, May 15, you will have to enter your library barcode and PIN the first time you log in to 
TumbleBookLibrary
from an remote locations such as your home PC or mobile devices/tablets. As long as you have your cookies enabled, you will only have to enter the card number once. Every subsequent login will give you direct access to the collection without having to re-enter your card number. Access to
TumbleBook Library
from within any of our branch buildings will still NOT require a login.