Please call your local branch to reserve this title for your club.
Bag Contents: 10 copies + 1 large print + 1 audiobook
Summary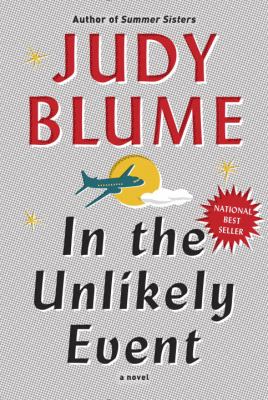 In her highly anticipated new novel, Judy Blume, the New York Times # 1 best-selling author of Summer Sisters and of young adult classics such as Are You There God? It's Me, Margaret, creates a richly textured and moving story of three generations of families, friends and strangers, whose lives are profoundly changed by unexpected events.
In 1987, Miri Ammerman returns to her hometown of Elizabeth, New Jersey, to attend a commemoration of the worst year of her life. Thirty-five years earlier, when Miri was fifteen, and in love for the first time, a succession of airplanes fell from the sky, leaving a community reeling. Against this backdrop of actual events that Blume experienced in the early 1950s, when airline travel was new and exciting and everyone dreamed of going somewhere, she paints a vivid portrait of a particular time and place--Nat King Cole singing "Unforgettable," Elizabeth Taylor haircuts, young (and not-so-young) love, explosive friendships, A-bomb hysteria, rumors of Communist threat. And a young journalist who makes his name reporting tragedy. Through it all, one generation reminds another that life goes on.
In the Unlikely Event is vintage Judy Blume, with all the hallmarks of Judy Blume's unparalleled storytelling, and full of memorable characters who cope with loss, remember the good times and, finally, wonder at the joy that keeps them going..
Booklist Review
*Starred Review* In her first adult novel since Summer Sisters (1998), celebrated children's and young adult author Blume tells the story of three generations of an Elizabeth, New Jersey, family: her protagonist, 15-year-old Miri; Miri's mother, Rusty; and Miri's grandmother, Irene. Their lives and those of their friends are impacted when a plane falls out of the sky over Elizabeth, and, in the course of the next 58 days, two others follow. Miri's friends are sure it's the work of aliens or zombies or, more simply, sabotage. Miri's reporter uncle, Henry, who will make his reputation covering the crashes for the local newspaper, says they're coincidences. But who is to say? In the meantime, Miri's boyfriend, Mason, becomes a hero in the wake of the third crash, but will their relationship survive? Like many family stories, this one is not without its life-changing secrets and surprises. There is no surprise that the book is smoothly written, and its story compelling. The setting the early 1950s is especially well realized through period references and incidents: God Bless America sung by Kate Smith, praying in public schools, reading the new novel Catcher in the Rye, watching Your Hit Parade on TV, and more. With its focus on Miri's coming-of-age, this could have been published as a YA novel, and it will doubtless reach a wide crossover readership. HIGH-DEMAND BACKSTORY: A new Blume novel will always be big news, and this one will be promoted on a wide scale to all ages.--Cart, Michael Copyright 2015 Booklist
Publisher's Weekly Review
The three fatal plane crashes that hit Elizabeth, N.J., during the winter of 1951-52 are the inspiration for Elizabeth-native Blume's latest adult novel (the first since 1998's Summer Sisters), in which young and old alike must learn to come to terms with technological disaster and social change. The novel opens in 1987, when Miri Ammerman's return to Elizabeth for a commemorative ceremony brings back memories of the year she turned 15. In flashback, readers are brought back to the 1950s-Kate Smith, Lilly Dache, J.D. Salinger, Korea-from a variety of perspectives: Miri; her single mom; her supportive uncle; her wise grandmother; Miri's best friend, Natalie, daughter of a workaholic dentist and his shopaholic wife; Christina, a Greek girl secretly dating an Irish boy; passengers on the ill-fated planes. Miri's uncle earns recognition for reporting on the crashes in the local newspaper, but when Miri writes about the reactions at school she lands in the principal's office. Disaster produces other unexpected developments: Miri's boyfriend saves lives, while Natalie hears dead people. Maintaining her knack for personal detail, Blume mixes Miri's familiar coming-of-age melodrama with an exploration of how disasters test character, alter relationships, and reveal undercurrents of a seemingly simple world. She evokes '50s music, ethnic neighborhoods, and Las Vegas in the early days, while posing the question, how do individuals, families, and communities, deal with disaster? Her answer may not be entirely new, but her novel is characteristically accessible, frequently charming, and always deeply human. 350,000-copy first printing. (June) © Copyright PWxyz, LLC. All rights reserved.
Library Journal Review
Blume's latest is based on events from her own life and will hold appeal for both young adult and adult readers. It is December 1951 in Elizabeth, NJ, and ninth grader Miri Ammerman lives with her unwed mother, Rusty, and her grandmother Irene. During the winter, three planes crash in Elizabeth, affecting the community in multiple ways. The junior high students speculate about the reasons for the crashes; UFOs and communist sabotage are the most popular. Miri falls in love with an older boy, learns secrets about her parentage, and must deal with her friend Natalie's strange behavior and eating disorder. Newspaper reports and bits of 1950s popular culture such as Elizabeth Taylor haircuts, a 17" Zenith TV, and Nat King Cole lyrics are referenced in this blend of fact and fiction. Kathleen -McInerney brings a young, enthusiastic tone to her narration. VERDICT Recommended for libraries with historic fiction collections and Blume lovers of all ages everywhere.-David Faucheux, Lafayette, LA © Copyright 2015. Library Journals LLC, a wholly owned subsidiary of Media Source, Inc. No redistribution permitted