Please call your local branch to reserve this title for your club.
Bag Contents: 10 copies
Summary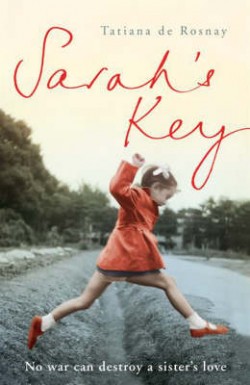 Paris, July 1942: Sarah, a ten year-old girl, is brutally arrested with her family by the French police in the Vel' d'Hiv' roundup, but not before she locks her younger brother in a cupboard in the family's apartment, thinking that she will be back within a few hours. Paris, May 2002: On Vel' d'Hiv's 60th anniversary, journalist Julia Jarmond is asked to write an article about this black day in France's past. Through her contemporary investigation, she stumbles onto a trail of long-hidden family secrets that connect her to Sarah. Julia finds herself compelled to retrace the girl's ordeal, from that terrible term in the Vel d'Hiv', to the camps, and beyond. As she probes into Sarah's past, she begins to question her own place in France, and to reevaluate her marriage and her life. Tatiana de Rosnay offers us a brilliantly subtle, compelling portrait of France under occupation and reveals the taboos and silence that surround this painful episode.
Publisher's Weekly Review
In the summer of 1942, the French police arrested thousands of Jewish families and held them outside of Paris before shipping them off to Auschwitz. On the 60th anniversary of the roundups, an expatriate American journalist covering the atrocities discovers a personal connection--her apartment was formerly occupied by one such family. She resolves to find out what happened to Sarah, the 10-year-old daughter, who was the only family member to survive. The story is heart-wrenching, and Polly Stone gives an excellent performance, keeping a low-key tone through descriptions of horror that would elicit excessive dramatics from a less talented performer. Her characters are easy to differentiate, and her French accent is convincing. De Rosnay's novel is captivating, and the powerful narration gives it even greater impact. A St. Martin's hardcover. (June) (c) Copyright PWxyz, LLC. All rights reserved
Library Journal Review
Pivotal to this novel is the key in ten-year-old Sarah's pocket. It opens the cupboard in which she has hidden her younger brother from the French police, who are rounding up Jews in Paris. It is July 16, 1942, and Sarah, along with her parents and hundreds more people, are brought to the stadium Velodrome d'Hiver, where they spend several days without food or water before being sent to French camps en route to Auschwitz. Arriving at the camp Beaune-la-Rolande, Sarah is separated from her parents and manages to escape. Nearby farmers not only protect but eventually adopt her. In alternating chapters, we read of American-born journalist Julia Jarmond, who's working on a magazine story about the "Vel'd'Hiv" roundup on its 60th anniversary. Because the grandparents of Julia's husband moved into the apartment once owned by Sarah's family, we learn what Sarah discovers when she finally returns ten years later with the key-knowledge so traumatic that it changes Julia's life forever. This debut by French-born de Rosnay has been translated into 15 languages and will surely be an international best seller. Masterly and compelling, it is not something that readers will quickly forget. Highly recommended.-Lisa Rohrbaugh, East Palestine Memorial P.L., OH (c) Copyright 2010. Library Journals LLC, a wholly owned subsidiary of Media Source, Inc. No redistribution permitted.