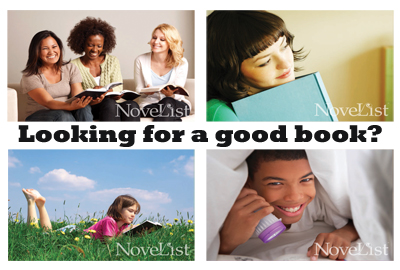 Something suspenseful, scary, quirky or heartwarming? Historical? Fantasy? Romance? Thrillers? Read-alikes? Listen-alikes? If you are looking for expert advice on a book to read or listen to, NoveList Plus can help.
NoveList Plus is a book discovery service like reader-driven Goodreads but administered by library professionals.  It includes qualified recommendations, reviews, articles, lists and more. Browse by genre, author, series, age groups, awards, interests or use one of NoveList's quick links - such as Author Read-alikes, Books to Movies, Grab and Go lists - to find that perfect read. As an added benefit, you can create an account with NoveList to keep tab on books you've read or books you want to read and share your lists with other NoveList users.
Give it a try now:
Access NoveList Plus from the Books menu on this website 24/7.
Pick a title using any of NoveList Plus' helpful tools and searches.
Connect to the Atlantic County Library System's catalog from NoveList Plus.
Place a title on hold.
Pick it up at your local branch or download from our OverDrive or Axis 360 eCollections, if available.
Not just for adults --
NoveList Plus also matches titles for children and teens
while NoveList K-8 Plus is designed specifically for younger reading levels.