Note: As of June 27, 2017, Zinio is now RBdigital Magazines. Same service, new name.
Discovering, checking out and reading eMagazines is now easier to do in the Zinio for Libraries app.
Users no longer have to sign into or navigate multiple websites to enjoy free eMagazines from the Atlantic County Library System.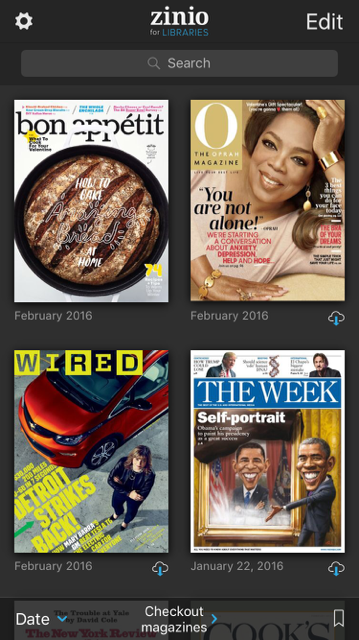 To browse and checkout eMagazines, click on the "Checkout magazines" link at the bottom the app screen. (If the link does not respond the first time you try this, uninstall and reinstall the app.)
 
To read your eMagazine, return to the app by using the "Back to Libraries" arrow on the top left of your iOS screen or the back button on your android device.  From the settings options, which can be found on the top left of the Zinio for Libraries screen, use the "Refresh Library" button if you do not see a eMagazine you checked out.
 
To read eMagazine offline, click the "cloud" icon to download it onto your device.
Get the Zinio for Libraries app
to access complete digital editions of popular magazines
on all your mobile devices!