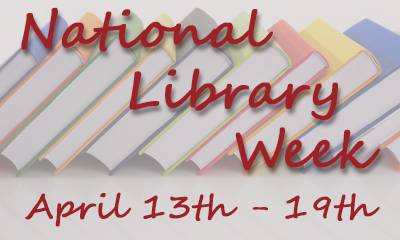 During National Library Week, April 13th -19th, the New Jersey Library Association is asking library supporters around the state to contact their New Jersey Legislators and advocate for increased library support.  Currently, the state provides just 42 cents per person for library service, seven cents less than the cost of a postage stamp.  There is currently a bill with 17 sponsors that would increase per capita state aid for New Jersey's library by $3 million. We hope by you and other library supporters reaching out to New Jersey legislators, this bill will be passed and libraries will receive critical fiscal support.
New Jersey libraries are also in desperate need of a Capital Construction Program.  The last program for capital construction in public libraries was passed approximately 15 years ago with a $45 million bond act. Libraries require capital investment to keep up with technological requirements, improve ADA accessibility and provide more flexible spaces for training labs and maker spaces.  Now is the time to invest in the infrastructure of New Jersey's libraries to allow them to meet the evolving needs of the community.
You can help. Take Action Now.

Thank you for your time and your support of New Jersey's libraries.