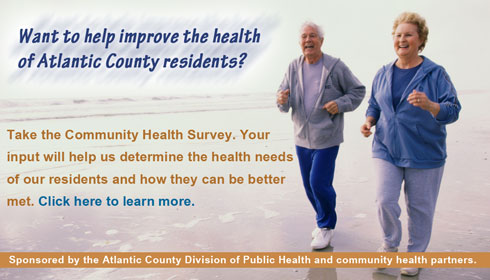 More than 22,000 Atlantic County residents registered for federal assistance in the aftermath of Superstorm Sandy. A new online survey seeks their input as well as those who were impacted but did not request assistance.
A link to the survey is available through April 30 on the county websites: www.aclink.org and www.ReadyAtlantic.org.
The survey is sponsored by the Atlantic County Division of Public Health in partnership with the Mental Health Association of New Jersey. It aims to determine the unmet health, mental health and social service needs of county residents who were impacted by Superstorm Sandy and is based upon a framework developed by the New Jersey Department of Health. The brief online survey is strictly confidential. Participants will NOT be asked for personal identifying information and will not be contacted. Survey results will also be used to create a plan to link Sandy-impacted residents with long term recovery and educational outreach activities.
Those in need of mental health assistance as a result of Superstorm Sandy are encouraged to contact the Mental Health Association at (609) 652-3800 extension 308 or the toll free Sandy stress hotline at 1-866-202-HELP (4357) or call 2-1-1.