As reviewed by Michael Stirm, a Library Assistant at our Egg Harbor Township Branch.
"That very combination of characteristics present in Goering—the admirable and the sinister—heightened Kelley's interest in him. Only such an attractive, capable, and smart man, who had smashed and snuffed out the lives of so many people, could point Kelley toward the regions of the human soul that he urgently wanted to explore." – Jack ElHai, The Nazi and the Psychiatrist

 
This quote expresses the premise around which the enthralling non-fiction book, The Nazi and the Psychiatrist revolves. It tells the story of U.S. army psychiatrist Douglass M. Kelley and his fateful assignment to assess the mental fitness of 7 high-ranking Nazis imprisoned in Nuremberg while awaiting trial for war crimes. Kelley leaps at the opportunity to inspect the minds behind previously unseen depths of human depravity; a psychiatrist's dream. Driven by the same grim curiosity that drove his grandfather to obsess over a group of 1800s Americans who, cut-off for months by a blizzard, had resorted to acts of cannibalism to survive—Kelley hopes to uncover a common sinister thread among his Nazi "specimens."
This book is the story of how that doesn't happen—and of the toll that this disappointment takes on the psychiatrist who leaves Nuremberg shaken by the utter ordinariness of the war criminals. Readers for whom the Holocaust and the question of human evil remains a fascinating and perplexing topic will find The Nazi and the Psychiatrist eye-opening and informative. It shines in its probing analysis of the relationships between Kelley, the perpetrators he is tasked with understanding, and a rival psychologist at the prison whose views of the Nazis differ fundamentally from his own.
Author Jack El-Hai offers good insights and intelligent remarks throughout; though, at times, he seems over-eager to play psychologist himself, and forces his points, as in his linking of the personalities of Kelley and Goering. Overall, though, the book is well-researched, fast-paced, and filled with memorable portraits of disturbingly-ordinary people who help orchestrate or put into policy atrocities that still have us shaking our heads and asking, "How?" Though it may not provide the answers some readers seek, this book puts forth a compelling account of one man's attempt to classify the evil behind the horrors of Nazism.
Click here to read Michael Stirm's review of the documentary Hitler's Children.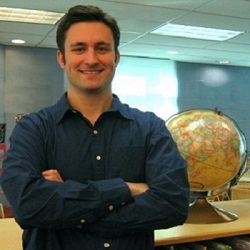 One of Michael Stirm's favorite reads is The Prince of India (1893) by Lew Wallace, former Civil War General and also the author of Ben-Hur. When he isn't reading works published before the 1900's, he likes books that include topics on mythology and religion as well as, no surprise for an English MA, literature. Right now, he is doing his best to chip away at the "A Song of Ice and Fire" series.