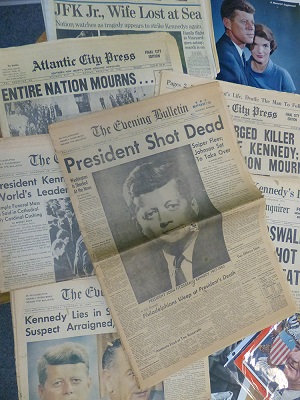 In remembrance of the 50th anniversary of President John F. Kennedy's assassination, our shelves are stocked with both new non-fiction and fiction books. Titles like "Dallas 1963," "Five Days in November," "History Will Prove Us Right: Inside the Warren Commission Investigation..." "Camelot's Court: Inside the Kennedy White House," "If Kennedy Lived: An Alternate History" and "Top Down: A Novel of the Kennedy Assassination" aim to entice readers whose imaginations are captured by the times and events surrounding John F. Kennedy's life and death. You can search and place holds on them easily through our online catalog.
However, if you are looking for something more personal, you are welcome to come in and read through our Reference Center's collection of newspapers, magazines and images preserved from the era.
The Atlantic County Library System's Reference Center is located on the second floor of the Mays Landing Branch Building at 40 Farragut Avenue. Who knows what else you may discover while you're there?