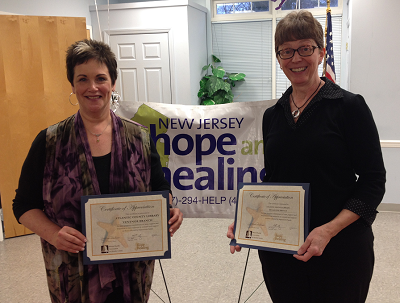 The Mental Health Association in Atlantic County honored two branches of the Atlantic County Library System at the Community Appreciation Ceremony on February 5, 2014. Representatives from the branches, Brigantine Branch Manager Elizabeth Bliss and Ventnor Senior Library Assistant Kathleen Tabasso, accepted the certificates of appreciation. The branches were recognized for their support of New Jersey Hope and Healing and assisting it in its efforts to reach persons impacted by Hurricane Sandy.
"Having been a victim of Hurricane Sandy and establishing a relationship with Hope and Healing through their presence in our library, I found the ceremony very moving.

 

I was very proud to represent the Ventnor Library and share the experience with Beth Bliss from Brigantine who had forged a very close connection with Hope and Healing."

-Kathy Tabasso
New Jersey Hope and Healing was formed to provide mental health and emotional support for victims in the aftermath of Hurricane Sandy. The library branches provided space to New Jersey Hope and Healing which allowed the organization to dispense information and counsel residents right in their communities.