Join millions of eBook readers around the world
enjoying one book from February 17th – March 5th!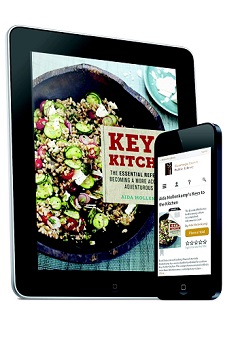 Once again, the Atlantic County Library System will be participating in the Big Library Read program. Card holders will be able to borrow and enjoy the cooking eBook "Keys to the Kitchen" by Food Network and Cooking Channel star Aida Mollenkamp, starting February 17th and concluding the morning of March 5th.
"This comprehensive manual collects more than 300 innovative, contemporary recipes as well as color photographs, plenty of informative illustrations, a substantial technique primer, and helpful how-to information on subjects as wide-ranging as rust removal, throwing a cocktail party, and knife skills."
Big Library Read is an international program that gives libraries and library patrons unlimited simultaneous access to a popular title during the program, creating a virtual, global book club. Interested patrons will be able borrow "Keys to the Kitchen" using a valid library card, and enjoy on all major computers and devices, including iPhone®, iPad®, Nook®, Android™ phones and tablets, and Kindle® without worrying about wait lists or holds. Patrons will be able to select a lending period of one, two, or three weeks, which begins at the date of checkout. Titles will automatically expire at the end of the lending period. There are no late fees!

Come back and click here on Wednesday, February 26th
for a live Facebook chat with the author
from 8:00 PM – 9:00 PM U.S. Eastern Time.