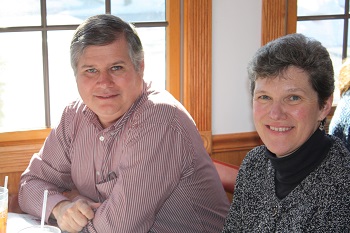 On February 1st, 71 years of combined experience and dedication retired from the Atlantic County Library System. We say goodbye to Edwina Wilinski and Brian Tomlinson.
When Edwina Wilinski got her first job after graduating from Rutgers with a MLS degree in 1976 it was the start of a long and mobile career at the Atlantic County Library System. At that time, there was only one branch, located in Mays Landing in a garage behind the Surrogate's Office. For the last three and a half years now, Edwina has served as the Assistant Director; a position she earned after her years as a Children's Librarian in Mays Landing, Principal Librarian in Ventnor, Principal Librarian in Reference Services and Chief Librarian, in charge of personnel. Everyone who works here has had contact with Edwina for one thing or another. With her professionalism and good nature, she has helped, advised and influenced us all and has woven her kindness and knowledge into the fabric of our library system. Far from doing nothing, Edwina looks forward to traveling, going to Disney World as much as possible and spending time with her family, especially all those nieces and nephews she takes so much joy in.
When Brian Tomlinson started his job in 1980, the library had been relocated to the Starn's Shoprite in Pleasantville. Brian began as an accountant, became the Business Manager and is now retiring as Fiscal Officer. We only wish that we could hook up his brain to a computer and download the gigabytes of information he has stored in there. While he looks forward to not having to get up early every morning and to being able to ride his bike on the boardwalk more, Brian is not taking himself out of the workforce completely. He plans on continuing some work in accounting and in e-Rate consulting but now, at least, he'll get to make his own hours.
When asked, both Edwina and Brian cite the expansion of the Atlantic County Library System as the most notable change from when they began working here. Growing from a staff of 15 in 1976 to 130 today, Edwina has had a hand in hiring a very large percentage of the people who currently make up the system. The budget that Brian had control of in 1980 has grown as well but so has the technology available to the system and provided to the public.
Neither of these two outstanding co-workers and people can ever truly be replaced but they are leaving a legacy of people behind them who have been fortunate enough to learn from their experience, dedication and amazing work ethic. To say we thank them and will miss them isn't enough… we wish them many exciting adventures and happy moments.
A retirement luncheon was held for them January 30, 2014 at The Mill Street Pub in Mays Landing. Click to view pictures of the event.