A review by Mary Beth Fine, Principal Librarian and Outreach Services Section Manager.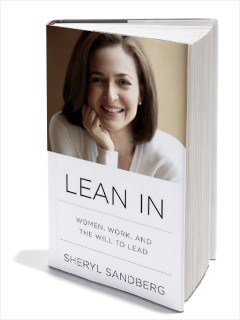 The first three words in "Lean In: Women, Work and the Will to Lead" by Sheryl Sandberg are "I got pregnant." Reading this, one would think this is a book about choosing children over a career. Instead, Sandberg argues that in the months leading up to your child's birth you should be motivated to show your worth and working even harder. Her point is that "the months and years leading up to having children is not the time to lean back, but the critical time to "lean in." As for working after childbirth, paying for daycare, even though it is expensive, could be a way of "investing in their families' future."
Sandberg is the Chief Operating Officer of Facebook, and her resume includes working at World Bank, Treasury Department and Google. This short book (173 pages) was written as a follow up to Sandberg's talk at the 2010 TED Conference entitled "Why we have too few women leaders" and she continued her "lean in" message at the 2011 commencement address at Barnard College. Both of these talks went viral and created controversy as "the new feminist manifesto" about women in the workplace, and the lack of women in leadership positions.
Much of the book is a rehash of these two talks. Her critics say she puts too much blame on women, but that is too simple an explanation. Sandberg argues although gender bias still operates in the workplace, women no longer can get away with excuses or justifications. Fundamentally, she is giving a pep talk to women to believe in themselves, give it their all and not to doubt their ability to combine work and family.
There are flaws in the book. Sandberg takes statistics from two surveys — of Harvard and Yale alumni — to argue that too many women fall behind in their careers because of their own bad choices. However, the book is only written for those women who are already in the management track. The book does not address the average working woman who is making a minimum wage and has no prospects to move beyond that job. The book wobbles from being deadly boring, to amusing personal anecdotes and catchy phrases such as "It's a jungle gym, not a ladder," "Fake it until you make it," and "Done is better than perfect."
In addition, she asks us to take career advice from a wealthy, white married woman with a "vast support system" who employs nannies and travels on private planes. It might be more believable a book if she listed some examples of powerful women who didn't graduate from the Ivy League. Or who struggled to make a success of working and family life. Or who succeeded despite tremendous odds.
Sandberg argues that it comes down to "picking a supportive partner." She advises women to encourage their husband to become a real partner in all things, without telling him how him how to do it. "Let him put the diaper on the baby anyway he wants to as long as he's doing it himself," she writes. "And if he gets up to deal with the diaper before being asked, she should smile even if he puts that diaper on the baby's head (p.109)."
Despite its unevenness and imperfections, "Lean In" has the potential to be an important book because it renews the conversation for women about their role in leadership. Having been on the New York Times bestseller list for months, it seems the "lean in" message is resonating. I would recommend this book for all young women and men to read just for the "you can do it all" confidence Sandberg imparts.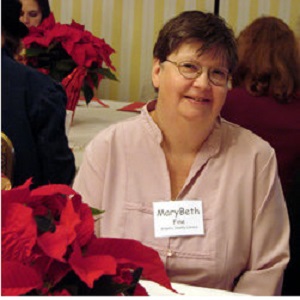 Mary Beth Fine is the Outreach Services Section Manager at the Atlantic County Library System. Her favorite types of books are biographies, mysteries and non-fiction. Because she belongs to two Book Clubs, one at her church and at work, she spends time being "forced" to read fiction--which she is learning to enjoy. Among her other interests are watching movies and collecting Limoges china.