Please call your local branch to reserve this title for your club.
Bag Contents: 10 copies
Summary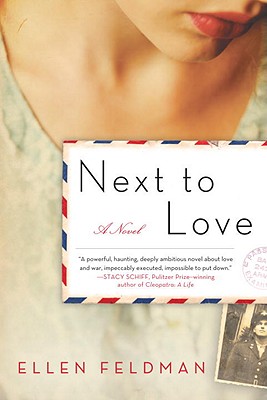 For fans of The Guernsey Literary and Potato Peel Society, The Postmistress , and Hotel on the Corner of Bitter and Sweet, a story of love, war, loss, and the scars they leave set during the years of World War II and its aftermath. Set in a small town in Massachusetts, Next to Love follows three childhood friends, Babe, Millie, and Grace, whose lives are unmoored when their men are called to duty. And yet the changes that are thrust upon them move them in directions they never dreamed possible--while their husbands and boyfriends are enduring their own transformations.
In the decades that follow, the three friends lose their innocence, struggle to raise their children, and find meaning and love in unexpected places. And as they change, so does America--from a country in which people know their place in the social hierarchy to a world in which feminism, the Civil Rights movement, and technological innovations present new possibilities--and uncertainties. And yet Babe, Millie, and Grace remain bonded by their past, even as their children grow up and away and a new society rises from the ashes of the war. Beautifully crafted and unforgettable, Next to Love depicts the enduring power of love and friendship, and illuminates a transformational moment in American history. From the Hardcover edition.
Publisher's Weekly Review
Feldman's latest (after Scottsboro) follows three female friends through WWII and into the '60s as lives, loves, and perceptions change both within and without. Bostonians Babe, Grace, and Millie don't want to lose the men they love to the looming war in Europe. So Grace and Millie marry their boyfriends before they ship out; Babe, on the other hand, follows Claude to his Southern Army base before he's due to join the fight in England, but is raped before reaching him. Grace and Millie's husbands die in battle, and Claude returns a changed man. The three old friends navigate life in a tumultuous era of social upheaval, holding to the belief that happiness lies in finding the right man. Babe, the quintessential girl from the wrong side of the tracks and a very sympathetic character, is determined to have life and love on her own terms. Grace and Millie, however, continue to hope for rescue and fail to learn from their mistakes.
Feldman adopts multiple points of view and sticks to the awkward present tense, which instead of bringing immediacy pushes the reader away. A section of letters, though, is beautifully rendered, illuminating the characters and advancing the plot. Feldman's portrait of an era, and its women, is both well drawn and frustrating. (July) (c) Copyright PWxyz, LLC. All rights reserved.
Booklist Review
*Starred Review* The quiet devastation wrought by WWII on the lives of ordinary Americans forms the backbone of this haunting and profoundly moving novel that interweaves the stories of three small-town women, one working-class, two wealthy, and their families from 1941 to 1964. With their new husbands fighting overseas, independent Babe, gentle Millie, and regal Grace fight another war at home, against loneliness, tedium, and the ever-present terror of receiving a telegram from the War Department. After tragedy strikes, the three struggle to reshape their lives and those of their loved ones not only around loss and heartache but also in a maturing America simultaneously launched into Eisenhower-era prosperity and rocked by the first tremors of the women's liberation and civil rights movements.
At turns brave, frustrating, and fragile, Feldman's characters live and love with breathtaking intensity, and her deft juggling of several zigzagging plots makes the pages flow past with the force of a slow but mighty river. Equally impressive is her understanding of the period and of the assumptions not only about race and sex but also about keeping private pain private, which made the Greatest Generation not only flawed but often deeply, quietly miserable.--Vanderhooft, JoSell. Copyright 2010 Booklist
Library Journal Review
No one knows how hard war can hit a small town better than Bernadette (Babe) Huggins, operator of the Western Union office in South Downs, MA. As the book opens, on a particular day in July 1944, wires from the War Office leave a trail of destruction across her hometown. Babe and her girlfriends Grace and Millie give us the female perspective on this war. In 1942, Babe and Millie had followed their men down to camp in North Carolina, where their nuptials took place, and now all three women are in the thick of marriage and the concomitant worry as their husbands are off to fight in Europe. Their stories move through the final days of the war, with only one of the men returning, and onward, encompassing children (and the lack thereof), breakdowns, sexuality, second marriages, racism, anti-Semitism, and self-identity. VERDICT War is hell, as are the depictions presented mostly through the letters these soldiers write home.
Feldman's (Scottsboro) scathing prose intensifies the daily routines of these families and makes readers fearful and worried along with them. Yet life does go on, for better or worse. A lustrous evocation of a stormy period in our past; highly recommended for lovers of World War II fiction. [Library marketing; online reading group guide.]-Bette-Lee Fox, Library Journal (c) Copyright 2011. Library Journals LLC, a wholly owned subsidiary of Media Source, Inc. No redistribution permitted.